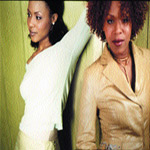 Breaking the Chains
When Tina and Erica Atkins, the gospel duo known as Mary Mary, started mixing with entertainment celebrities, their dad became a little uneasy. A
fter a chance meeting with R&B/hip-hop producer Warryn Campbell (Dru Hill), the singing/songwriting sisters were gaining one opportunity after another to use their talents. But their father wasn't convinced it was a good idea.
Eddie and Thomasina Atkins and his wife raised their eight children in the church, believing that what really matters is a personal relationship with God. Gospel music nurtured that relationship. It was the only music allowed in their home, and that was what he wanted his children to sing. And sing they did, well enough that the Atkins siblings performed on the popular "Bobby Jones Gospel" program (BET).
In that performance, Erica and Tina realized music was their passion. They joined the cast of Michael Matthews' traveling gospel show, "Mama, I'm Sorry," and then toured for another year with a second Matthews play, "Sneaky."
Together they rented an apartment, working day jobs to meet the rent; Erica was a courtesy clerk at a local Boyd's Market, Tina was a makeup artist at Nordstrom's. Individually, they were doing backup vocals for all kinds of people—Brandy, Brian McKnight, Terry Ellis, Ray-J, Kenny Lattimore, Eric Benet. But in their father's eyes, it was a risky business, and he wasn't thinking about the money. "My dad and my mom were not very proud. They didn't exactly agree with it," recalls Tina of the women's work with general market acts. "But my sister Erica put a question to them: 'Do you believe that you raised me right, trained me up in the way I should go? You should trust the God-given knowledge, you should trust the parenting you've done, that I'll make good choices.'"
So the sisters continued to perform as well as write music. In 1996, when Campbell heard their talent, he was so impressed that he collaborated with them on tunes which he then presented to his publisher, EMI Music. (He was impressed by more than just their musical talents; he and Erica are now married.)
Campbell even included some of the sisters' original music in the package. EMI executives were also impressed. Subsequently, the Atkins' song "Dance" was added to the Dr. Doolittle soundtrack, and "Let Go, Let God" was included in the inspirational soundtrack to The Prince of Egypt. "We were very selective in what we did, comfortable with the artists we chose to sing with," says Tina.
But an even deeper passion was calling.
"When you're doing R&B music—gig to gig—you kind of miss what's in your heart," says Tina, referring to straight-out gospel music. "You have a longing to sing it, a longing to get back to it." When offers for record deals started to come in, the sisters looked for a label that would let them do the music they wanted to do and also present it to a wide audience.
"When it came time to present music to the world as Mary Mary, it would be only gospel," says Tina.
The sisters clarify that identification. "Inspirational music makes me feel good, like I can go on, I can make it, I can do whatever I put my mind to. But gospel tells you about what God can do, it tells you the good news of Jesus," explains Erica.
Even their group name, Mary Mary, was chosen with that good news in mind, as the women explain in their press bio: "We were thinking about the Marys in the Bible, and there are two specifically: Mary Magdalene, who was delivered from evil spirits, and of course Mary, mother of Jesus, both of whom were very instrumental in His ministries. [Mary Mary is] about Jesus and telling people who He is and of His love."
And people are listening.
Their single "Thankful," which begin, "Lord, I'm thankful for my blessing every day," hit the top of the gospel charts, staying at No. 1 for seven weeks. "Shackles (Praise You)," another smash hit, is unabashedly worshipful: "You take the shackles off my feet so I can dance/I just want to praise You/You broke my chains so I can lift my hands/I just want to praise You."
For Mary Mary, "worship" does not resemble "woeful." "People confuse 'sacred' with 'sadness,'" Tina observes. "But there are a few more options other than solemn."
Mary Mary's music is "a little more lively," she says. "It shouldn't be just one culture in the church, one race in the church. I think we should be able to be well-rounded. I understand that people like a certain sound, a certain style, but sometimes we're not willing to accept something that doesn't look like us, sound like us."
Their faith affects not only their words but their wardrobe—the duo stays away from the oversexed persona used to market many artists.
"You shouldn't try to be sexy," says Tina. "It's taking attention off God, putting it on yourself."
For Mary Mary, keeping the emphasis on God is too important to compromise, though they admit there have been times when they've been asked to tone down their message. "Sometimes people are trying to get us to create with a little less God emphasis," says Tina, "but we're gospel singers, and you'll never be confused about who we're singing to. If I'm singing to God, you won't think I'm singing a love song."
With the success of debut album Thankful, Mary Mary got its first big taste of road life last fall while performing with Yolanda Adams and Shirley Caesar [CCM January 2001]. For Tina, the downside of touring is missing her church fellowship. "In a sense, we have church every night," she says. "Pastor Caesar preaches, Yolanda sings, and we present the gospel according to Mary Mary."
But Mary Mary recognizes the inherent risks as well. "You start thinking you deserve all this stuff that people are doing for you," says Tina. "It's hard. Anyone who says it isn't hard is telling an untruth. "My pastor has a saying," she continues, smiling again. "'I ain't all o' that, and you ain't either.' Only God is 'all o' that.' Jesus gave up His life, and He stands before the Father and asks for grace and mercy for us. He could say, 'They said they were going to do right, but they did Me wrong, and I'm done with them.' He could actually do that, but He doesn't. He has so much mercy and grace."
Secure in God's grace and mercy, the women of Mary Mary can now rest easy in knowing they also have their parent's approval. "Mama carries all our paraphernalia in her purse," says Tina. And as for their daddy… she laughs out loud, "He thinks we're the biggest thing since The Beatles."