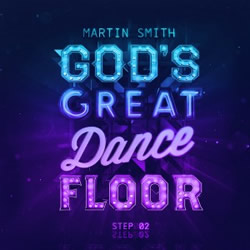 God's Great Dance Floor, Step 02
God's Great Dance Floor: Step 02
(Gloworks)
by
Martin Smith
FOR FANS OF: Delirous?, Matt Redman
Rating: 4 Stars
Worship music pioneer Martin Smith is now settling nicely into his solo career after years as the front man for Delirous?
God's Great Dance Floor, Step 02
is a diverse collection of emotional Brit-pop anthems ("You Are My Salvation") and hall-oriented tracks ("Only Got Eyes"). Smith's friends helped write several tracks (Michael W. Smith, Chris Tomlin), and such friendships pay off on this interesting and inspiring release.
– Matt Conner
WE LIKE: "You Are My Salvation"
Song Title
Length
Play
Price
Buy MP3
&nbsp

You Are My Salvation




Album: God's Great Dance Floor, Step 02

4:24
$0.99
Buy Song
&nbsp

Emmanuel




Album: God's Great Dance Floor, Step 02

4:22
$0.99
Buy Song
&nbsp

Only Got Eyes




Album: God's Great Dance Floor, Step 02

3:36
$0.99
Buy Song
&nbsp

Great Is Your Faithfulness




Album: God's Great Dance Floor, Step 02

4:20
$0.99
Buy Song
&nbsp

Song Of Solomon




Album: God's Great Dance Floor, Step 02

6:26
$0.99
Buy Song
&nbsp

Grace




Album: God's Great Dance Floor, Step 02

4:22
$0.99
Buy Song
&nbsp

Redemption Day




Album: God's Great Dance Floor, Step 02

4:07
$0.99
Buy Song
&nbsp

God's Great Dance Floor




Album: God's Great Dance Floor, Step 02

3:52
$0.99
Buy Song
&nbsp

Keep The Faith




Album: God's Great Dance Floor, Step 02

5:49
$0.99
Buy Song
&nbsp

God Is Coming




Album: God's Great Dance Floor, Step 02

5:49
$0.99
Buy Song
&nbsp

Angel




Album: God's Great Dance Floor, Step 02

5:12
$0.99
Buy Song