[CCM Magazine] What's New with LUMINATE
Monday, October 01, 2012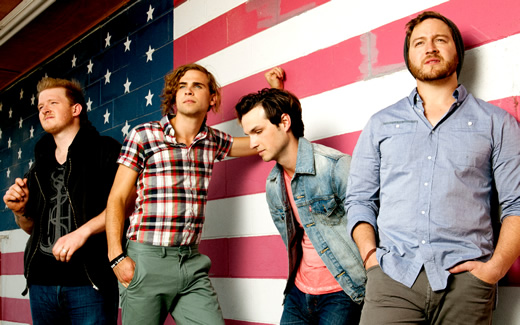 Just a year after debuting with 2011's Dove Award-nominated Come Home, Luminate makes considerable artistic and lyrical strides on its sophomore CD Welcome To Daylight. Besides crisp modern rock production from Chris Stevens (TobyMac, Britt Nicole) and Pete Kipley (MercyMe, Phil Wickham), the songs were crafted amidst a year of numerous challenges, but also wedding preparations for singer Sam Hancock and Emily Smith (Michael W. Smith's daughter). Catch more from the front man in a conversation with CCM just prior to kicking off a fall tour opening for Newsboys.
CCM: There seems to be exponential musical growth on this project. To what do you attribute that?
Sam Hancock:
This record was birthed out of a challenging place. Stress on relationships, illness and lack of motivation were always trying to dampen our spirits. We had two options. One was to give in and write a depressing record. The other was to dance through the storm and sing the truth that God gave us. We chose to dance! The overall feeling of the record is celebratory.
CCM: How do you hope to inspire listeners to see the world through God's eyes, as the lyrics so often seem to discuss?
Hancock:
I hope that people can see not just the world through God's eyes, but see themselves the way God sees them. One of the biggest lies that we tend to latch on to is that God can't use us the way we are. Yes, we are called to pursue God daily and we will grow, but the kingdom of God is now and He always has a role for us to play in His kingdom. Seeing the world through God's eyes can only happen when we allow the Holy Sprit to consume us and give us the faith and passion to live for Christ. We have to let the love of Christ overflow from within. When that happens, our hearts are softened to the opportunities that God lays before us to demonstrate His love in not just the big ways, but the small and simple ways as well.
CCM: To what extent has preparing for married life influenced your songwriting?
Hancock:
It has been a crazy experience preparing for marriage and a record release at the same time. It's been a good crazy though. I've been recently realizing that it's time for me to really latch on to being a man of God and knowing that it's really time to allow God to mold and shape my life so He can mold and shape my marriage. I wrote a song called "Heal This Home" with producer Chris Stevens about a God-centered love and marriage…I can't describe how happy I am to begin this chapter of life [and] I'm sure a new abundance of songwriting material is about to surface throughout this first year of marriage.
CCM: What does having a famous father-in-law add to the mix?
Hancock:
Emily's parents have been on a journey like the one we are about to begin for a long while, and stayed faithful and true to each other through thick and thin. They have been a great example for me and Emily and they have always been there to offer council and sound advice. Their love is nothing short of genuine and inspirational. We are both blessed to have parents that put God at the center of their lives and marriage.