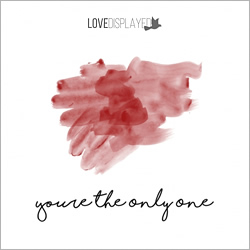 You're The Only One
You're The Only One
(Self-Released)
by
Love Displayed
Mission-focused husband-wife duo
Love Displayed
, comprised of
Zak
and
Amy Huffman
, offer their first full-length album,
You're The Only One
(
buy
). One year after an inaugural and local buzz-worthy two-song EP, the fledgling act enlisted
Jesus Culture
keyboardist
Ian McIntosh
to kick-start this project — which began way back in 2014. Containing a good mix of worshippy tunes to straight-arrow CCM, there's a mood and feel for everyone here. The pair, however, do have callings that span much further than the music they make, so it's for very good reason
You're The Only One
is just now seeing the light of day. With extensive global missions experience under their belts, the Huffman's proclaim that proceeds from album sales will go to support missions efforts at home and abroad, including their own
Spirit Of Adoption Ministries (SOAM)
— which ought to excite anyone who supports music to get behind this band.
FOR FANS OF
: Jesus Culture, Amanda Cook, Lindy Conant & The Circuit Riders
CCM Rating:
2.5 out of 5 Stars

Song Title
Length
Play
Price
Buy MP3
&nbsp

You're Welcome Here




Album: You're The Only One

5:10
$0.99
Buy Song
&nbsp

I Will Say Yes




Album: You're The Only One

4:51
$0.99
Buy Song
&nbsp

How I Love You




Album: You're The Only One

8:07
$0.99
Buy Song
&nbsp

You're The Only One




Album: You're The Only One

3:45
$0.99
Buy Song
&nbsp

All You Want Is Me




Album: You're The Only One

4:43
$0.99
Buy Song
&nbsp

All Power




Album: You're The Only One

5:07
$0.99
Buy Song
&nbsp

Can You See Him Now




Album: You're The Only One

5:37
$0.99
Buy Song
&nbsp

The Light (Remix)




Album: You're The Only One

3:30
$0.99
Buy Song
&nbsp

Everything I Have (Remix)




Album: You're The Only One

4:47
$0.99
Buy Song