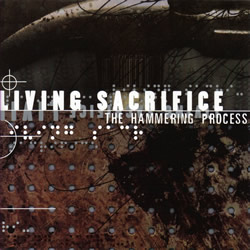 The Hammering Process
The Hammering Process, the fifth album from Little Rock's Living Sacrifice, couldn't be more appropriately named. The band's music lives in a world that is dominated by the thrash and speed metal models that thrived in the mid-to-late '80s and pays little heed to the modern melding of hard music with hip-hop and other forms. The occasional fluid guitar solo or odd space left open for some interesting percussion by Matthew Putman set the songs apart, but mostly it's the pounding of drummer Lance Garvin and crunchy riveting guitars that define the territory.
Amid all this mad, percussive noise, vocalist Bruce Fitzhugh spews out a blathering assault that you'll need the lyric sheet to dissect, and even then you may want to spend some time weaving through the dense poetry herein. "Altered Life" speaks of the peace of God, but often Living Sacrifice describes the hell of absence, which leads to heroin, self-abuse and death. Overall, this heavy rock tract manages a sound that will not be easily denied.
Song Title
Length
Play
Price
Buy MP3
&nbsp

Flatline




Album: The Hammering Process

3:19
$0.99
Buy Song
&nbsp

Bloodwork




Album: The Hammering Process

4:12
$0.99
Buy Song
&nbsp

Not My Own




Album: The Hammering Process

3:10
$0.99
Buy Song
&nbsp

Local Vengeance Killing




Album: The Hammering Process

3:06
$0.99
Buy Song
&nbsp

Altered Life




Album: The Hammering Process

4:43
$0.99
Buy Song
&nbsp

Hand Of The Dead




Album: The Hammering Process

3:33
$0.99
Buy Song
&nbsp

Burn The End




Album: The Hammering Process

4:56
$0.99
Buy Song
&nbsp

Hidden




Album: The Hammering Process

3:52
$0.99
Buy Song
&nbsp

Perfect




Album: The Hammering Process

2:52
$0.99
Buy Song
&nbsp

Conditional




Album: The Hammering Process

4:58
$0.99
Buy Song