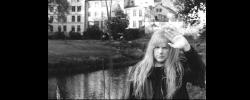 Larry Norman: A Righteous Rocker Remembered and my Rock 'n Roll Pilgrimage
Monday, March 10, 2008
It's Saturday March 1st, 8:30 am when I pull up to 'The Church on the Hill', located fittingly on Maranatha Court, just outside Salem, Oregon, to say a final farewell to the Father of Christian Rock, Larry Norman. I've travelled twenty-one hours from Toronto, Ontario, Canada, but I'm nowhere near the farthest pilgrim. In the parking lot I meet Doug from Virginia and Joel from Minnesota. People have come from D.C. to California, there's more than a few from the U.K. and I hear there's someone here from Norway.

As we file in, Larry's sister-in-law, Kristin gives me a commemorative copy of 'Only Visiting this Planet,' a colorful program and a sheet of paper with a mini pencil. This is to jot down messages to the Norman family, specifically Larry's son Michael, recently married. The family wants to put together a scrapbook of memories from this day to pass down through coming generations to help remember Larry. It's very humbling accepting that piece of paper.

The service starts with Larry's mailman of over 15 years, a wiry, hunched over fellow, who walks to center stage to inform us he has one more letter to deliver, this time from Larry to us. As he opens and reads it, the sentiment is similar to what's printed on the inside of the program:

"Larry was concerned that some of his friends might take his departure very hard. He asked that they try not to. Larry loved a party and hoped you would enjoy this one. He is home at last, and can't attend in person, but if you listen to what his friends and family are saying today, you'll realize that he is very much here and alive in all our hearts."

With that comes crashing in at rock concert volume, the line from 'Why Should the Devil Have All the Good Music', "I don't like those funeral marches / I ain't dead yet!" Only Larry.

For the next two and a half hours, friends and family eulogize and give tribute not so much to Larry's career, but to who he was personally and how he had time to talk to anybody; even street people that he gave CDs and CD players to. They spoke of Larry's faith in Jesus and his commitment to spreading the Gospel through Rock 'n Roll despite life's many zig zags that included: long term physical ailments, professional controversy and record company scandals, and many broken personal relationships. But through it all, as Larry once wrote in 'Shot Down,' he may have been knocked down, kicked around, with people scandalizing his name; but there he was… talkin' 'bout Jesus just the same.

The most striking moment for me had to be when, after almost two hours in, with the mood getting pretty sedate, the screen flashes, "Ready to Sing in 3… 2… 1" and with that, it's time to follow the bouncing ball and sing along to 'The Rock that Doesn't Roll' from 1976s 'In Another Land.' You could tell early on the crowd of almost 700 was hesitant to enter into the Rock 'n Roll spirit. But by the first chorus into the second verse, the urge was irresistible – especially with Larry's prompting words like, "I finally feel like I've passed my test" and "you've got to rock me from my grave." It felt as though Larry was calling from Heaven to us, to celebrate one last time, his final journey home. And as the spirit of the crowd lifted, 'One Way' hands reaching for the sky to salute the pioneer and give praise to the King all at the same time, I felt a confidence in the room. We were unified in our agreement – Larry Norman was safe and secure in the arms of Jesus. It was a real and palpable moment that I will carry with me forever; along with the box of Cracker Jacks coyly served at the reception to follow.

It's true. Larry Norman ain't dead. He's just passed into "Another Land"… and I look forward to seeing him again.