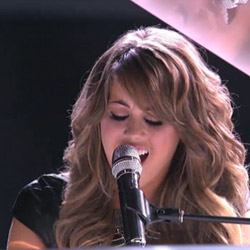 Kari Jobe's Song Performed on American Idol by Top 6 Contestant Angie Miller
Tuesday, April 16, 2013
Last night on
American Idol
, one of the Top 6 contestants, Angie Miller, chose a Kari Jobe song to perform as her "Song I wish I had written" selection. Miller's performance of "Love Came Down" from Jobe's 2012 release
Where I Find You
resulted in a standing ovation from the crowd and all four judges. Following Miller's performance last night, Jobe's song quickly climbed to the top of the iTunes Christian & Gospel singles chart, and the album is currently at No. 6 on the iTunes Christian and Gospel album chart.
"I have watched American Idol for 12 years, and it was so much fun to have 'Love Came Down' from my album,
Where I Find You
on there this week," shared Jobe after watching the performance. "I met Angie a year ago and was blown away by her talent and love for Jesus! Excited for her!"
Miller also shared on Twitter last night to Jobe, "I watched you perform 'Love Came Down' quite some time ago and fell in love with it. Thank you for inspiring me so much! Love you!"