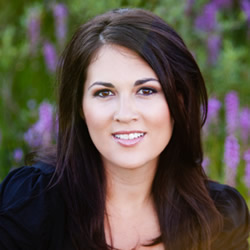 [CCM Magazine] What's New with Julie Elias
Friday, February 01, 2013
Buzz continues to build for newcomer Julie Elias after spending a full year gearing up for her new CD
A Wild Rose
with performances at major festivals like Walt Disney World's Night of Joy, AtlantaFest, Ichthus and Creation. Along the way, she's proven to be one of her generation's most astute songwriters in the tradition of Amy Grant, Sheryl Crow or Natalie Merchant, though crafting Christian music isn't her only talent. Elias is also known in acting circles, appearing as an extra on some of Hollywood's biggest stages (Grey's Anatomy, Due Date, Larry Crowne), while also serving as a soloist in Ruth Graham's musical
Fear Not Tomorrow
. Catch more from the multi-talented star in a chat with CCM about how she incorporates faith into her latest artistic chapter.
CCM:
What inspired you to dive into music after a successful acting career?
JULIE ELIAS:
There's definitely a lot of uncertainty in both careers. The biggest motivation for me to make the switch were the apparent, smack-you-in-the-face signs that God was putting in my life. I had reached a plateau in acting where I realized even when I achieved goals, I felt only a fleeting satisfaction immediately followed by frustration a day later. I had gotten to a point where I was praying for guidance and direction, for God to really make His will known more clearly than ever. To be honest, I don't know if I had really, honestly asked for that so explicitly before. I would ask little things like "please help me concentrate on the audition," but never focused on the big picture so much. While music has challenges too, I see a big picture here. I have found many opportunities to minister through music. Whether you are singing on the main stage of the Creation festival, on the podium of your church or even helping with a kids Christmas musical, the possibilities to use God-given talent to truly make a difference in the lives of others are endless.
CCM:
Tell us about the album title
A Wild Rose.
JULIE:
When I met my producer Robert White Johnson [Celine Dion, Faith Hill, Larnelle Harris] for the first time, he was so curious about my time in L.A. and how I, as a young Christian woman, dealt with the pressures and often derogatory media portrayals of women. He actually had the phrase A Wild Rose come into his head during that first meeting, before we even had decided to work together. It was one of the first songs we wrote. When it comes to fitting in and meeting the approval of others, I think this is a struggle we all will have to deal with at certain points in our lives. But if you can step back and try to examine the beauty and purpose that God has uniquely created in you, it gives you a confidence that other people can't take away from you. A Wild Rose became a motif for the whole album: how awesome, hopeful and beautiful life can be when you find yourself on the path God has set out for you.
CCM:
How would you describe your musical vibe as a whole?
JULIE:
The album was less inspired by specific artists than by my own favorite genres: classic rock and musical theatre. I love a song that has theatricality in its lyrics—a beginning and an end, a revelation, a resolution, whatever it is that makes it feel like a journey.