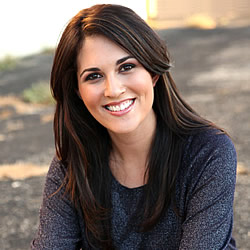 Julie Elias
In looking at Julie Elias' multi-faceted career in the arts, it's clear that the Lord has her on a journey and He's continuing to mold her for His glory with each adventurous step forward. These days, she's fully embraced her calling as a singer/songwriter after a lifelong affinity for music, which before becoming a full-fledged recording artist included everything from leading worship to musical theatre to moving to Hollywood. Elias' path to this point has been circuitous, no doubt; however, all the stops along the way have been essential building blocks to her spiritual and creative foundation.
"I studied musical theatre in college and there's something fascinating – and downright fun – about immersing yourself in a character. To participate in the preparation and rehearsal that goes into a performance is hugely enjoyable and gratifying. Making the move to Hollywood to pursue work in film and television seemed like a great way to make something I was passionate about into a career."
After making the networking rounds in Hollywood, Elias was well on her way to becoming an up-and-coming actress thanks to various extra roles on Grey's Anatomy (for two seasons), CSI: New York, Bones, Flash Forward, Community, Parks and Recreation, Weeds and Dexter. She also appeared in several films as an extra, including Due Date, starring Robert Downey Jr., and Larry Crowne with Tom Hanks and Julia Roberts.
But amidst the excitement of her first taste of Hollywood success, Elias felt a tugging on her heart that a new door was about to be opened.
"Although I was getting some great opportunities, something was missing and I couldn't put my finger on it no matter how hard I tried," she says. "As I prayed my way through it, I was able to hear God tell me to be open to other possibilities and that I should not restrict myself solely to acting. However, I am grateful for my time in Hollywood; my experiences ultimately strengthened my relationship with Christ and played an integral part in the journey to realize my calling."
As Elias started soul-searching, she returned home in 2010 to celebrate Christmas with her family, rejoining her church's praise and worship team, while also performing some local concerts. As she further unplugged from the hustle and bustle of Tinseltown, her connectivity and ability to relate to audiences on the concert stage became all the more apparent.
"For whatever reasons, I had blinded myself to the place music had in my life," Elias says. "I took piano lessons for years, played sax in band throughout junior high and high school, and sang in my church for most of my life, all the way from kids' holiday musicals to the praise team once I was in high school. Even my college years included vocal lessons since I was a musical theatre student. Yet it took a seemingly routine Christmas concert that year for me to realize what I've been called to do. In fact, Christmas of that year was the most clear-cut, obvious message I ever received from God, period! It was as if He said 'I am spelling it out for you, in bold caps: pay attention.' Despite this revelation, I was still hesitant and spent a few months praying about it, but His guidance never faltered and it was so clear what He wanted me to do. The moment I embraced that calling, an amazing sense of peace filled my heart and He brought some amazing opportunities my way, almost immediately."
At the beginning of 2011, Elias began making regular pilgrimages to Nashville to collaborate with Music City's top songwriters and producers. The trips resulted in her national debut CD, set to release in the first quarter of 2012, which features ten fresh tunes that chronicle her journey.
"These songs are stories of my life spanning good and bad times. For example, I struggled for far too long with forgiving someone who had crushed me. I didn't realize how I continued to hurt myself by hanging on to that resentment. Once I was able to give up my hurt and anger to God, I was free – talk about a weight being lifted! All these songs are personally inspired but are in no way exclusive to me," says Elias. "I want people to see how He is working in my life while encouraging them to find their hope and answers in Him, as I continue to do the same. Now that I finally understand my calling, the doors are wide open and it is the most exciting part of my life so far.
While putting the finishing touches on her debut music project, the doors did indeed start flying open for the singer/songwriter, who landed a number of impressive performance opportunities. Elias auditioned forand earnedthe chance to perform at the annual Night of Joy celebration at Walt Disney World's Magic Kingdom, where she appeared on the Talent Spotlight Stage,with MercyMe, Newsboys, Skillet, Jeremy Camp, FrancescaBattistelli, Matthew West and others singing on stages nearby.
"Night of Joy was remarkable," Elias says. "It was my first chance to share my new songs in public. The reaction was wonderful. People of all ages attended the concert and spoke to me afterwards about particular songs that meant something to them. And all this happened while performing across from 'Pirates of the Caribbean,' my favorite ride. Worshipping God in Disney World — does it really get much better?"
Other pre-release buzz about the newcomer comes from her soloist role in Ruth Graham's Fear Not Tomorrow musical. Besides touring to select venues throughout the United States, Elias is also featured on the soundtrack CD.
"Fear Not Tomorrow is something I will never forget. It was my professional debut and I was blessed to have a wonderful experience with the project, truly setting a standard for things to come. I sang two songs during the performance. One of the songs, "Peace," allowed me to sing with a 250-voice a cappella choir, which was truly celestial. I sang the second song, "Undone," which is so beautiful, in concert and also on the record. During the concert, the song came right after Ms. Graham's testimony," Elias says. "We all have those seasons of feeling 'Undone' where we are completely out of control and at our most vulnerable. But in those places where there are no other answers, we find the Lord's comfort and assurance. I have felt that way many times, including while in Hollywood. That song resonated with so many people and the biggest blessing to me was to have total strangers share personal stories about how that song touched their hearts."
As Elias gears up to make her mark on the modern day music scene with her engaging songwriting style and fresh pop/rock sound –influenced by Amy Grant, Natalie Merchant, Carrie Underwood and Sheryl Crow – she's committed to spreading faith-affirming messages that are just as uplifting to believers as they are inspiring to seekers.
Take for instance her inaugural album's sunny opening cut "A Wild Rose," during which she unveils pristine vocals over organic production, steeped in memorable melodies. On "Breathing Room," she turns towards a more contemplative, ethereal tone across the verses, eventually building to a crescendo with ramped up passion on each memorable chorus. Other highlights include the prayerful, string-soaked ballad "I Am Yours," the gorgeously theatrical "Breathe In Me," the fiery barn-burner of resolution "Here I Am," the harmony-heavy rocker "Freedom In Love" and the tender, piano-flanked promise "Peace I Leave With You."
"I have eclectic tastes in music, so the idea of melding a few different styles to create something unique to me was inevitable," says Elias. "At my core, I love classic rock and part of its appeal is in the fact that it is 'classic,' which is why I wanted to incorporate some B3, accordion, a lot of guitar and big drums. My second love is musical theatre – I know, quite a contrast, right? I like music that is dramatic and moving, complemented by interesting lyrics. It was important to me that the lyrics would enhance great melodies. These songs are about a variety of experiences in my life and one of my earliest intentions musically was that no song would sound too much like another. I think I was able to keep this trend, while still maintaining a style that is representative of me, both in content and musicality."
Elias' upcoming album doesn't just stir the soul rhythmically, but also showcases both the triumphs and challenges throughout her spiritual and artistic journey, while simultaneously inspiring others as they search for their place in this world.
"I have been there. I am there. I face challenges every single day and try to make good decisions, but admit freely that I am not perfect. But at the end of the day, I am so thankful for my life and the people in it. There is always hope, and even if we don't see it right now, there is joy. We are all constantly on a spiritual journey and mine is chronicled by music. It's not always easy to expose your vulnerabilities and share your heart with people, but God has given me this opportunity and it is my sincere wish that people become encouraged to delve deeper into their own faith upon hearing my songs," she says.
"I've always believed you can hear words, but you can feel music," says Elias. "What is a relationship with God without feeling His presence through your entire being? Sometimes songs can touch you in a way that words cannot."