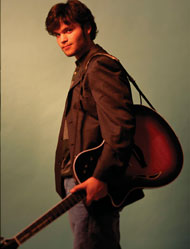 Ones to Watch: Speaking Up
Monday, July 31, 2006
Jimmy Needham is a soulful singer/songwriter from Texas. Imagine listening to an acoustically driven album that combines the blues of Jonny Lang and Ben Harper, the smooth vocals of Gavin DeGraw and John Mayer and the lyrics of Keith Green. That's what Jimmy hopes to do; and I have to say, he does, indeed, pull it off. His music saunters up, gently wrestles you to the couch and, then, holds you there until it's finished questioning your eternal destiny. Jimmy doesn't just want to entertain you, he wants to politely, but persistently, detain you. His debut album on Inpop Records, speak, is already in stores.
Paul: Who are your musical heroes?
Jimmy: Anyone who speaks the Truth in love is a musical hero of mine: Ross King, Keith Green, Derek Webb and Lecrae.
Paul: Tell us about your album, Speak. Why "speak"? It's a great title!
Jimmy: As you walk into the heart of Christ, you are not only walking into the reward of His sufferings, but you are walking into His burdens as well. I have recently realized that Jesus' heart is deeply burdened for the lost, and He has commissioned us to share in that hurt with Him. "Speak" simply articulates the call not merely to serve in the name of Christ but to actually preach His gospel. Paul pleads with the readers in Romans 10:14 as he asks, "How will they hear without a preacher?" Good music should either cause a person to worship or repent. The project Speak has been an attempt at both. Much of this album is a challenge to the church. The challenge is this: Love is proved by obedience (John 14:21), so let us joyfully flee from the fence of mediocrity and embrace our cross, which the Lord Jesus so graciously gave us to bear.

Read CCM's entire feature story on Jimmy Needham right now! Follow This Link!