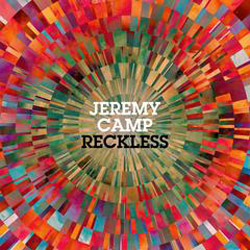 Jeremy Camp Set to Release Album and Book Next Week
Wednesday, February 06, 2013
BEC Recordings' artist Jeremy Camp is gearing up for his highly anticipated new studio project,
Reckless
, releasing next Tuesday, February 12 on BEC Recordings. Not only will he be releasing his first studio album since his GRAMMY-nominated release
Speaking Louder Than Before
(2008), Camp is also releasing his personal story,
I Still Believe
, on Tyndale House Publishers.
It is his new-found life passion that spurs on this upcoming release and book – to live his life recklessly for God. Camp shares the concept of recklessness through the life of Paul. In Acts 14, Paul returns to Lystra to share the Gospel—a city where, just days before, he had been stoned and left for dead. As Camp explains, Paul's return is more reckless than crazy, and there's a difference. "[Paul] wasn't being crazy for crazy's sake, saying 'I don't care what's going to happen. I just want to go.' No, when you feel God calling you to do something, you have to be obedient. And that's the difference. Paul was just obedient. That's what reckless is."
Wearing both the artist and author hat, Camp's story,
I Still Believe
, will also be in stores this month. In
I Still Believe
, he shares, with unflinching candor and emotion, the extraordinary story behind his award-winning lyrics. His story reflects the influences from his impoverished childhood, rebellious teenage years, spiritual awakening at Bible College and the tragic loss of his first wife, Melissa, to cancer. The heart-wrenching spiritual journey that followed is a journey that reignited Camp's faith, inspired some of his most beloved songs, and paved the way for a second chance at love with his second wife, Adrienne.
Fans can watch the brand new music video for the single, which premiered this week
on GodTube
. Also starting today, fans can listen to the full album preview
at YouTube here
.
This weekend Camp joins MercyMe on their annual Rock and Worship Roadshow along with Kutless, Adam Cappa, Family Force 5 and more.
Click here
to see where Camp will be in the coming weeks.