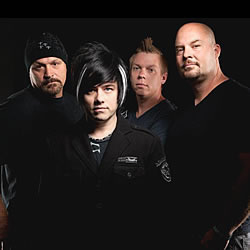 Jason Eaton Band Set To Record Two New Singles
Wednesday, May 08, 2013
(Detroit, MI) --- Under the production genius of two-time Dove winner and Grammy
nominee Kene "Ghost" Bell (Toby Mac, Gritz) the Jason Eaton Band heads back to the
studio the end of May to record two new singles "Satellites" and "Thirsty". "Satellites" is
slated for national radio release in July, with "Thirsty" as a follow-up single.
"We are really excited to get back into the studio and release these new songs." states
Jason Eaton, front man for the band. "Everyone will experience a fresh new JEB vibe that
continues from the established sound we already have." Eaton continues. "Thirsty", cowritten
by the band and Kene, features a very "hooky" worship chorus that is sure to find
its way to churches everywhere. "Satellites", has a reggae-pop backbeat along with
catchy lyrics and melody, and is sure to be a summertime mega hit!
Their latest music video of their current single "Saving Grace" debuted at #1 on the
Christian Music Video charts (Onlylyrics.com) and continues to stay in the Top 40
months after its release. The Jason Eaton Band has appeared at many festivals such as
Unity (A stage), Rock the Coast (main stage), Music Fest (main stage), Big Ticket and
will tour through many festivals this summer including Unity Christian Festival's Day
Zero on the main stage along with many others yet to be announced. JEB will also be
appearing in a showcase this June at the International Christian Retail Show in St. Louis
to debut their new single "Satellites".
Jason Eaton Band's music can be found on iTunes and all major digital distribution sites.
Their CD's are available at Christianbook.com, Amazon.com, and select bookstores
nationwide.
For more information on the Jason Eaton Band please go to
www.jasoneatonband.com
.