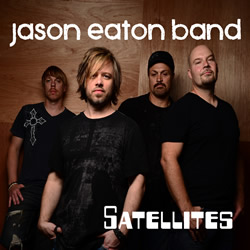 Jason Eaton Band's new single, "Satellites" an International Hit
Sunday, August 25, 2013
(Detroit, MI) – Michigan based Christian band, the Jason Eaton Band, has resonated with international listeners with their new smash hit, "Satellites", a pop-reggae single with a hooky vibe that really gets stuck in your head. Written by the band and produced by Kene Bell (Toby Mac, GRITZ) it was released worldwide on July 26th. In one month's time the single has charted #6 this week (8/24/13) with 28+ plays/week on the Vision Radio Network, which boasts over 550 radio stations all over Australia. In the United Kingdom, the United Christian Broadcasters (UCB-UK) network, which broadcasts all over the United Kingdom, has put "Satellites" in heavy rotation with 24+ plays/week. In Germany, the Cross Channel Network and ERF Pop Radio Network have added this week and now both spin the new JEB single covering the entire country. "Satellites" has just been released to the United States as well through Shamrock Media group and has already seen medium to heavy "adds" in TX, NM, NC, MI, AL and KS in the AC Indicator and CHR markets and has even drawn interest from mainstream AAA stations as it carries large crossover appeal. "Satellites" has also done well in digital sales in its first month as the #2 Hottest Release in Christian Contemporary downloads on Amazon.com. Additionally, you can find it available on iTunes and all digital outlets. With its message of God's undeniable sacrificial love for us and His fatherly watch and concern for our daily lives, "Satellites" has propelled the Jason Eaton Band into the stratosphere garnering worldwide attention.
For more information go to
www.jasoneatonband.com
.