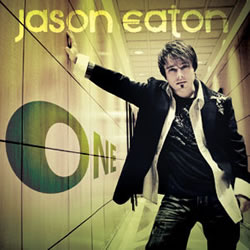 One
With a Prodigal Son-styled testimony, a worshipful undercurrent, unconventional pop/rock arrangements and mighty pipes, Jason Eaton takes a potent step forward on his long player One. The project opens with the entrancing guitars and commanding vocals of "Furious Love," settles into a bluesy groove come "Saving Grace" and overflows with a spirit of grace throughout "Free," all of which maintain the practically perfect balance between contemporary musical ingenuity and compelling yet applicable messages.
WE LIKE: "Furious Love"
–Andy Argyrakis


Buy this album on itunes here!


Song Title
Length
Play
Price
Buy MP3
&nbsp

Furious Love




Album: One

3:26
&nbsp

One




Album: One

3:48
&nbsp

Saving Grace




Album: One

4:46
&nbsp

Higher Than I




Album: One

4:12
&nbsp

Someday Soon




Album: One

4:33
&nbsp

Capture Me




Album: One

3:58
&nbsp

Waiting On You Again




Album: One

4:08
&nbsp

All I Have




Album: One

5:14
&nbsp

Fall On Us Now




Album: One

4:18
&nbsp

Free




Album: One

3:45