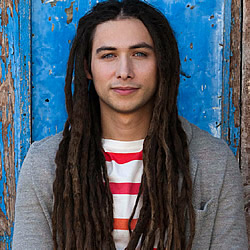 [CCM Magazine] Jason Castro: Mountain Climber
Tuesday, January 01, 2013
Jason Castro navigates marriage, fatherhood and his most compelling music to date.
There's never a day that goes by when Jason Castro doesn't get recognized for his successful stint on "American Idol," though there's a lot more that makes the singer/songwriter tick than placing fourth on the seventh season of the popular competition. Now 25, the dreadlock-bearing Texan is gearing up for his debut full-length album on Word Records (after time with Atlantic Records in the mainstream) called
Only A Mountain
, which comes on the heels of tying the knot in 2010 to his longtime sweetheart and becoming a dad a year later.
"You definitely have priorities and it's been a learning curve," confides Castro of the personal and professional whirlwind as of late. "We got married, came back from our honeymoon and traveled in a van for two months across the USA. That first year we just did everything together, and around the one year mark, we found out we were pregnant. For the last year, I was very fortunate to be in the record making process and not playing a lot of shows, which was really a blessing. Now we're getting going again and figuring out how to be home [as much as possible] and still out on the road doing what I gotta do. Hopefully in the long term, I'll be able to find a way to bring the whole family out."
Naturally, that push and pull between the spotlight and being a dedicated family man inspired the new album's title, which was thoughtfully determined after a season of wrestling. Even so, writing or co-writing the eleven songs on Only A Mountain proved to be an incredibly cathartic release for Castro amidst life's constant changes, which, coupled with a close knit behind the scenes community helped iron out the wrinkles.
"There were a lot of unexpected things with the music and the schedule, like how does my wife come from having a lot of community around to touring and being kind of isolated?" he admits. "There were times when we questioned if I was still supposed to be doing music and just a lot of things I think come with every relationship in the first year of marriage. But we've successfully navigated through it all by faith, trusting in God and plugging into a great community that has been a big part of our story these last few years. We have a small group that's just amazing and it's been huge getting over these mountains and figuring out what's the Godly thing to do."
As a result, some of the songs take an autobiographical bent like "Enough," which is dedicated to his young daughter as a reminder to be confident in the person God made her to be. And then there's the less directly related but equally emotive "Same Kind of Broken" (a duet with Moriah Peters) that Castro cites as a favorite, complete with a socially-minded message.
"It's an acoustic song, which a lot of my favorites have been, and I wrote it directly inspired by my surroundings," explains Castro. "I was writing with a writer I've never worked with who had a nice condo in a rough part of town. When you looked out the window, you could see government housing. I asked her about it and she said she never wanted to forget the humanity of us all because we all have the same core. She grew up with a lot of those challenges, and I thought it was beautiful that no matter where we come from or live, at the core we're the same people — the same kind of broken — with the same desires for love and redemption."
Of course, no Castro record could be complete without the light-hearted charm he's always demonstrated, which the New York Times perhaps best summarized by saying "Jack Johnson and Jason Mraz should be nervous." However, faithful fans will also notice a more fleshed out feel beyond just the laid back acoustics thanks to a little help from producers Matt Bronleewe, Ben Glover and David Garcia.
"I was very flattered by that, but I would never tell some of my heroes to look out," he lets out with a laugh. "I love both those artists; they both represent an authenticity to what they do and a transparency that I hope to carry through my music. There's a bit of an evolution on Only A Mountain where I'm definitely taking it up a step. In live shows, it's a bit more electric and I had fun exploring that side of my sound."
Speaking of concerts, the tunesmith is on the road throughout 2013 in support of
Only A Mountain
, promising to play a blend of current and previous material, plus ultra-acclaimed "Idol" covers like Leonard Cohen's "Hallelujah" and Judy Garland's "Over the Rainbow." Even though it's been five years since the show, Castro's memories remain razor sharp and he's forever grateful for the opportunity that put him on a national platform.
"It's hard to believe how fast time flies and I just have fond memories of it," he observes. "It's one of those once in a lifetime things that was just so cool, from the TV aspect to spending a year in L.A. I don't know if I'd be doing music in this capacity if it wasn't for the show and I'm full of gratitude, though my wife reminds me I was stressed out of my mind at the time. One of my long term goals is for my music to be known above participation on a TV show, and though I probably still get a lot of recognition from the show, now I'm connecting with people from having songs on the radio. People will come up to me and say 'we didn't know it was you, but that's one of my favorite songs' and it's neat to see it all colliding."