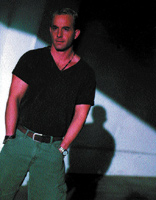 Hearing Is Believing With James Langteaux
Sunday, February 24, 2002
James Langteaux is getting used to being called crazy. In fact, he's often told by people he admires that he's unbalanced, deeply troubled and deceived. Sometimes he even wonders if they're right.
He certainly doesn't fit the super-spiritual mold you'd expect for a man who regularly hears from God. But he overflows with miraculous stories of random phone calls, unplanned encounters that lead to opportunities for sharing the grace of God and ridiculous promises that come true years later. James' story is one of passion that Christians who are certain of their sanity would do well to listen to.
A DESPERATE PRAYER
It was a dark and rainy Seattle morning. A man was running in the rain. He was running from the darkness that had been filling his life with emptiness, drawing him into a reckless and dangerous lifestyle. James Langteaux had finally come to a place of desperation.
That morning, he looked up at the gray sky and shouted at the heavens, "God, I don't know what's real anymore! If You're real—then show me." It was his first prayer in a long time.
James Langteaux had grown up in the church. He knew the religious rhetoric, but adolescence had brought questions about theology and also his sexual identity—questions for which the church offered rules, but not answers. "I would question things," he remembers, "and I would be told that I was rebellious. I was so confused and so angry at organized religion." As a young man out of college, living as recklessly as he could while trying to maintain a career, his spontaneous prayer in the rain began to turn his heart back to God. It brought him back to church and community, but it still left many questions unanswered.
A.D.D. SPIRITUALITY
One day, several years later, at 4:01 a.m., Langteaux woke to a voice telling him to drive from his current residence in Virginia Beach, Va., to Richmond for the day. Only half awake, James didn't wonder who was talking to him. He had no doubt it was God. He surprised himself by his unquestioning obedience to the strange order. "It was so weird," he recalls, "because by nature I'm very disobedient and rebellious." He went to work and told them he had to go out of town, and he was surprised again by the immediate agreement of everyone in his office.
It wasn't until he was in the car, driving toward Richmond, that James began to question his own sanity. He was going on a road trip because of a voice he'd heard in his head in the middle of the night. "What will I do when I get there?" he thought. And then God began to speak. Throughout the day God directed Langteaux where to go and what to do. It was a day of learning to listen, learning to hear and learning to obey. That day, James began to experience something new: a Christian life of total interaction with God. Not that God chats with us continually (James would later learn the pain of God's silence), but that we should always be prepared to hear God speak and to obey.
For Langteaux, it was years after he began hearing and obeying God that old struggles began to resurface. Although he was trying to live in Christian community, he was frustrated by the church's failure to address subjects that he struggled with. "I believed," he says, "but I found myself going down paths that were very dangerous still." One of these paths led him to develop dangerous friendships.
One friendship in particular seemed more and more able to meet his needs for love and acceptance that had been empty for so long. It grew into a relationship that fulfilled many things James had always dreamed of, and he was certain that he'd finally met the love of his life. There was only one problem: the love James had found was with another man. There was no doubt in his mind that God was not happy with his choices. Finally he told God, "This is the person I've looked for my entire life, and now I'm gonna give him up because I trust in You."
It seemed to Langteaux that after he had made that choice, life should have gotten easier. He acknowledges now, "I expected some massive divine intervention because I did the right thing. Instead, it was like all hell broke loose. I don't think I ever hurt as much. God felt more absent." Over time, the pain grew less, but the sexual confusion was still there. It wasn't until a few years later that healing really began.
OPEN CONFESSION 101
James had always dreamed of writing a book. A wrong number phone call to his home led to a meeting and then a book deal from Multnomah Publishing. They were excited about James' stories of hearing from God. The experience of writing God.com turned into some of the most intimate time with God he had ever spent, and James was thrilled with its potential for ministry. Unexpectedly, God told him to take the book in an entirely different direction.
In a previous chapter, Langteaux had written vaguely about a "nameless person" whom he'd left in obedience to God. When he sat down to continue writing, God said clearly, "Now name him." James was horrified. This book was not meant to be a confessional. "I wept," he remembers. "I went before God and I begged Him, 'Please don't.' And He said, 'Please do. I owned all of humanity's sin and was sinless; why can't you own the sin that you sinned?'"
James obeyed. He wrote an honest confession of the struggles of the past and the relationship he'd ended. And when he'd finished, "I felt so free. And the battle doesn't end, but the freedom begins."
The first people James had to trust with this truth were his publishers, and he dreaded it. The leadership at Multnomah was the last group he wanted to tell about his struggles with homosexuality. He told them his story, acknowledging, "You didn't sign me on knowing this stuff, but God did, and He's requiring that I tell the truth." James had hardly finished speaking when the president leapt to his feet and threw his arms around James, saying, "I love you. And you're coming to dinner tonight." His acceptance and love gave Langteaux a glimpse of the joy and community that come from living in truth.
Living by faith is never easy. Now James recognizes that writing God.com was "a beginning of welcoming my community of trusted friends into a closer place of relationship." His new level of honesty has given Langteaux opportunities he would never have dreamed of to love people, to share Jesus and to enjoy intimacy with God. He knows now what message he wants to share: "That we're supposed to be passionate. I sinned passionately; I want to live passionately. If we're gonna be believers, let's believe boldly. Let's get off the church pews and begin to love like we mean it, believe like we mean it, and see our world ignited because we're different. We may be unbalanced, but at least we're making a difference with our breath." CCM
What books are you currently reading?
Your God Is Too Safe by Mark Buchanan (Multnomah) and Man's Search for Meaning by Viktor Frankl (Washington Square Press)
What was your favorite movie in 2001?
Moulin Rouge
What is your favorite TV show?
I don't really watch TV.
What's in your CD player?
Coldplay, Dido, David Gray, Bach's Cello Concertos
Books by James Langteaux:
God.com (Multnomah) ISBN#1576737071
God.net: The Journey Beyond Belief (Multnomah) ISBN# 1576739902 (To learn more about James Langteaux go to www.godcom.com.)