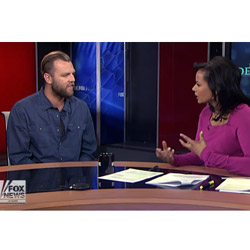 Hillsong UNITED's Joel Houston Appeared on FoxNews LIVE
Tuesday, April 16, 2013
Hillsong UNITED's Joel Houston appeared in studio today on FoxNews LIVE online talking about their recent release
Zion
as well as their upcoming US tour. In case you missed it,
click here to view the interview
.
In the interview, Joel talked about how UNITED has grown over the years in their mission, "Our music has found a voice and given us the opportunity to take the songs places we could never have imagined. Our main cause is to unite people around common causes in the name of Jesus."
And UNITED's new studio album,
Zion
, has done just that as the international worship band earned its highest ever
Billboard
200 debut at No. 5. During street week, the 12th full-length album and third studio recording from UNITED peaked as the No. 1 album overall on iTunes in the United States, South Africa, Sweden, Dominican Republic, Brazil, Singapore, Ghana and Columbia in addition to reaching the Top 5 at iTunes in Canada, Netherlands, New Zealand, Australia, Norway, Switzerland, Uganda and Ecuador.
Zion
also debuted at No.1 on the Australian ARIA Albums chart making this album an international hit.
In June, Hillsong UNITED will debut their USA summer tour, "WELCOMEZION." UNITED will be appearing at 12 venues across the nation including the famed Hollywood Bowl in Los Angeles and the beautiful Red Rocks Amphitheatre in Denver. Tickets for all dates are currently
on sale here
.