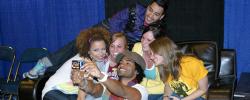 2009 Readers' Choice Winner: Group 1 Crew
Wednesday, May 13, 2009
GROUP 1 CREW
Best Duo or Group

Best Duo or Group Runners-up:
2. Point of Grace
3. Shane & Shane

Profile By Andy Argyrakis

The musical melting pot known as Group 1 Crew may be comprised of "Ordinary Dreamers," but the trio is anything but average either on stage or in their personal lives. The multi-cultural troupe comprised of Manwell Reyes, Blanca Reyes and Pablo Villatoro recently scored a soundtrack slot on "One Tree Hill," took home a second Dove Award in the "Rap/Hip Hop Album of the Year" category and was just named "Best Duo or Group" in CCM's Readers' Choice Awards. With all the momentum, the group continues to tear it up on tour, setting new musical trends and turning heads for its forward-thinking fashion statements. Manwell recently chatted about his definition of "true cool," staying physically fit amidst an exhausting schedule and favorite places to visit on both sides of the Atlantic.

FAN HIGH FIVE
It's humbling for sure. The fans are why we make music, and the fact that people thought it's good enough [to give us this award] blows us away and reaffirms [we're on the right track].

A CASE FOR COOL
"Cool" to me is the epitome of finding yourself and being that to the greatest degree. There's nothing more important or valuable than understanding who you are in Christ—both your faults and your strengths—and "cool" is just personified in confidence no matter what. It's a self-realization of who you are as a person and learning to be who you are as a unique individual.

SHOPPING SECRETS
We shop on the road and land at some of the coolest boutiques. Universally we all like H&M, but we're blessed that our travels can take us to unique stores that no one else may have [in their town]. We have shoes from Hawaii and clothes from Europe. We all like to shop!

TOP TRAVEL CHOICE
We like Amsterdam a lot, and we dream of going to Australia someday. But my favorite city is L.A. for sure. I'm just baffled at the fact human beings created houses you can see on the hill when you're driving on the highways.

PHYSICAL FITNESS
Right now I'm getting into P90X, which is a killer workout. One of my biggest things right now is trying to bulk up my calorie intake, which is hard because we're traveling so much. But I eat every two hours to keep my metabolism going; and to stay cut, I hit the gym hard. You have to be thoughtful on the health side of things, and I've noticed it's an area in Christianity that's so neglected. We preach against sex and drugs, but gluttony or obesity is just as bad.

EARLY INFLUENCES
It's funny because none of us listen to rap music that much, which is hilarious because we do rap music! Pablo was raised in a Spanish household, and he got into a lot of soul. I grew up on everything from Michael Jackson and Cameo to Kenny Rogers and Dolly Parton. Blanca likes power ballad singers like Whitney Houston and Mariah Carey. But we're open to everything and appreciate every art form of music.

MOST MOVING FAN MOMENT
We've had so many inspiring stories of people being moved to follow their dreams or find hope. I can think of one where a mom was driving 80 miles an hour down the road [at the end of her rope] and wanted to drive right into a brick wall, but then she heard "Can't Go On" and didn't do it. Or a kid who wrote us on MySpace saying they were about to cut themselves with a knife and stumbled upon our page and decided not to do it. God is real. Just the music by itself can't do that. He's saving lives literally.

PERSONAL PASSION
I like to write a lot, and I blog a lot. I also like to inspire people to dream beyond anything. Right now, I'm really praying about starting a conference where I can link up youth pastors across the nation and do a conference where individuals can be shown a greater understanding of their calling.

DARE TO DREAM
The best way I can describe it is I live by the motto of doing what's possible and letting God do what's impossible. I may be talented in my craft, but it's up to me to take vocal lessons and stay in shape for my 45-minute set so I'm not on stage breathing hard. When it comes to something that feels impossible, like getting signed, [God can open the door] as long as you've cultivated everything you can for yourself. We hear stories on MySpace of a producer walking by a garage and hearing a band that sounds good or a group [getting discovered] in a karaoke bar. We can control our preparations, and we'll be that much more ready when the door opens.

For more information on Group 1 Crew, visit group1crew.com.
For a complete list of 2009 Readers' Choice winners, log on to CCMmagazine.com/readerschoice09winners.