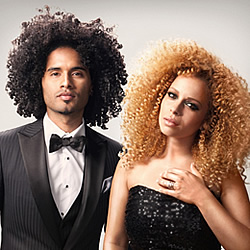 Group 1 Crew
(2012)
If there's one word to aptly describe both Group 1 Crew's artistic ingenuity and personal growth since we last heard from the five-time Dove Award-winning troupe, it's certainly
Fearless
as the title to their fourth studio CD so boldly proclaims. Besides pushing the musical envelope towards an endlessly infectious stream of hip-hop, rap, pop, rock and inspirational confections, it's impossible not to notice the exponential personal growth for co-vocalists Manwell Reyes and Blanca Reyes Callahan.
"One of the main changes personally is balancing being married with going on the road, and professionally, that we went from a trio to a duo," explains Blanca, citing long time collaborator Pablo Villatoro returning to full-time family life. "That was a very scary transition as we waited to see what God had in store for Group 1 Crew after, plus right around that time, I also lost my father. So there were certainly some big tribulations and hurdles we went through, but also some really great things like marriage, all of which really added to the record and gave Fearless a lot of heart."
Continues Manwell: "Throughout all the soul searching, we found a sense of purpose, realizing the group wasn't just a group of convenience, but of necessity. We've been on the road playing music and filling voids for a lot of people. We've had so many people tell us that they found us to be a breath of fresh air, which made us feel like we have a sense of duty to continue."
After a mere spin of Fearless, it's immediately apparent Group 1 Crew didn't continue on cruise control, but turned in their most full-throttled disc to date that's sure to signal their arrival to the world at large. In fact, the duo's already being heralded as one of the most preeminent entertainers regardless of genre (as evidenced during 2012's mostly sold out Winter Jam arena tour) with additional momentum coming from the new disc's lead single "He Said" (Feat Chris August) already topping Billboard's Christian CHR chart with equally impressive Top 10 status on both the Billboard Christian AC and Hot Christian Songs charts.
"One of the things I love about the group is our vast musical inspirations, which range from Manwell's '90s rock and hip-hop to my love for ballads, divas and old school funk," notices Blanca in wake of the group becoming a core Christian radio act across literally all formats. "On this record, we're able to incorporate all the different styles of music that we love and it's a fun thing that a lot of bands don't get to do. We'll go from hip-hop to an inspirational ballad, but that's just how we think, kind of like an iPod shuffle."
While the ambitious sonic potpourri that could easily find a home alongside Rihanna, Drake, Katy Perry or Wiz Khalifa is certainly nothing short of Fearless, the project also exposes members' hearts to such vulnerable degrees that fans from any walk of life can't help but relate. Though Blanca's married to the group's drummer, Ben Callahan, which affords them the opportunity to be on the road together, she still can't believe how fast the two years since tying the knot have flown amidst their feverish schedules. Manwell's also learning that delicate balancing act, especially considering his wife, actress/comedienne Anjelah Johnson (MADtv), has her own work-related travel commitments.
"My wife is just as busy, which makes it harder for us initially, but it's that much sweeter whenever we come home," he admits. "I've been born and bred to be this road warrior, and though my wife feels a little different and it's harder on her, she believes in us and is a complete supporter of Group 1 Crew. Not a lot of couples can say they're smack dab in the middle of living their dream and it's quite a miracle that we're able to do what we love to do and honor God." Besides the joys (and adjustments) that come with marriage, Fearless also addresses the heartbreak of Blanca losing her father. But rather than dwelling on the sorrow, she seeks to share his extraordinary journey towards faith and the healing of their previously fractured relationship as part of the group's ministry.
"I can honestly say I never understood the pain of what people encounter losing someone close to them and going through this experience really opened my eyes in that area," she empathetically offers. "My father is one of the biggest parts of my story because his complete 180 degree change is the reason I came to Christ. Growing up, he was a drug dealer who wasn't around at all, but after he gave his life to the Lord, he became a pastor who even went back to the town where he was a dealer and showed people his new life. I could've lost my dad to drugs or gangs, but he stayed around long enough to restore his relationship with his daughter. Seeing God's faithfulness in that really gets me through."
Despite those growing pains, Group 1 Crew sounds absolutely reinvigorated throughout Fearless, while having an even greater grasp on how to use each other's strengths to the benefit of the band. "When you think of people that are genuine, that would be Blanca," notices Manwell before she continues. "I'm not much of a business woman and part of me loves to be a homebody where I'm hanging with my mom, my husband and my dog, but I'm definitely really passionate about Group 1 Crew and what we do on the road. I love seeing music inspire people and sharing my testimony. Just don't let me miss eating or sleeping!"
As for Manwell, he's responsible for making Group 1 Crew one of the most digitally innovative acts in all of Christian music, from clever social media campaigns, to unbeatable music/merchandise bundles and consistent fan interaction. Group 1 Crew has even partnered with a company called Q-ItUp™ to develop an app where fans can scan the Fearless album cover with their smartphone and their album cover will come to "life." The app holds exclusive content, a free download that isn't available elsewhere, tour dates and a preview of the entire album. "I will say Manwell is a huge dreamer and he's always thinking of amazing ideas to keep surpassing what we're doing," observes Blanca before Manwell continues. "I just don't stop…I'm a robot! It's a good thing and a bad thing because I don't know when to shut off, but I just love to write and create and work on anything related to the group for the sake of the call."
While Fearless is certainly poised to take Group 1 Crew to the next stratosphere of success, it's that calling that still serves as members' primary priority. However, it goes beyond simply conveying their spiritually-centered message, but presenting it within a creative framework that assures the utmost of social relevance (further evidenced by appearances on "The Mo'Nique Show," NBC's "America's Got Talent," FOX's "The Simple Life," Style Network's "Kimora Lee Simmons: Life in the Fab Lane," MTV's "Run's House and The CW's "One Tree Hill").
"This is music a Christian can play in front of their unchurched friends and we can be a bridge in the conversation," sums up Manwell before Blanca reveals the group's impact goals on believers. "Even in the face of craziness or the hurricane of emotions going on in your life, you need to always remain Fearless. When God's called you to something great, don't ever be afraid to step out in faith and don't ever give up."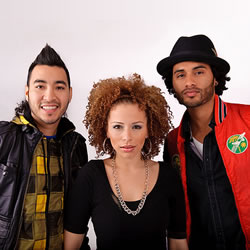 ~~~ Previous Bio (from 2008) ~~~~~~~~~~~~~~~~~~~~~~~~~~
A self-professed entertainer, a pop diva, and a bona fide producer: that's the makeup of breakout urban
sensation Group 1 Crew, three everyday Latinos who rose above their circumstances and the middle-of the-road to become one of the most exciting aggregates in faith-based music.
Ordinary Dreamers
, the trio's anticipated second album for Fervent Records, shatters any and all preconceptions created by their out-of-the-box, Dove-winning debut, Group 1 Crew, to position itself as
one of the most unordinary offerings of the moment—an amalgam of rhythm and rhyme that takes the best of urban pop and hip-hop and turns them upside down.
Produced by Christopher Stevens and Andy Anderson, Ordinary Dreamers is a snapshot of three
visionaries encouraging others to never be complacent with the status quo, but to continually press
forward and propel themselves towards the next plateau in their lives.
Indeed, that's a posture that Group 1 Crew — members Manwell, Blanca, and Pablo — have upheld since
they first came together for Bible studies several years ago, a path to spiritual growth that eventually
evolved into a promising career in music and ministry.
"We're still ordinary people, but we're doing extraordinary things," Manwell says. "That's an oxymoron, but it's made so that the dreamer mentality can be on typical people's minds. Nobody's born a rock star. Nobody's born famous. It's just normal people who've done amazing things and are now esteemed for those amazing things. We feel that's everyone. Everyone has that possibility." Granted, Group 1 Crew didn't always have it all together as far as their own dreams and aspirations. Once a confused adolescent who'd much sooner get in trouble and roll with the wrong crowd than use his God-given gift to entertain, Manwell finally realized his potential when he gave Christ a shot. "I put the mic down as soon as I got saved, and for a year I just studied my Word and got into the Bible," says Manwell, a former seminarian. "I figured, 'I've got to know what I'm talking about.' I can't just be like a lot of artists who just regurgitate what they've heard."
For her part, Blanca's sole desire growing up was to be the next Mariah or Whitney. Since she had the pipes, she tried out for every talent show imaginable—yes, even American Idol—only to hit brick walls
and become plagued by thoughts of insecurity.
"A lot of the times I feared I wouldn't make it," says Blanca, the group's soulful leading lady. "I got the feeling that I wasn't getting what I wanted, that I wasn't moving forward. Once I got saved it was a big difference because God just showed me that he had a plan from the beginning. Everything just came together as soon as I started singing for him."
Meanwhile, Pablo's epiphany about a better tomorrow came, of all places, while working the cash register at his friendly neighborhood Wal-Mart. He was a musically inclined knob-turner since a young age, but he didn't quite know how to turn his gifting into a living.
"One day it hit me," says Pablo, a one-time music production student at Full Sail. "I wondered, 'What if I do end up in Wal-Mart for the rest of my life?' For some reason, I just let doubt come in and I was looking around at people who had been working there for 15-20 years. I was like, 'I know that God has something more for me.'"
Today, on the verge of yet another breakthrough with Ordinary Dreamers, Group 1 Crew wants their combined testimonies and victories to be a catalyst for all the dreamers who happen upon the group's music.
"It's telling our fans, 'There's no difference between you and us,'" Blanca says.
From the disc's first downbeat to the last lingering note, Ordinary Dreamers is the stuff dreams are made of. From a musical standpoint, Group 1 Crew and their collaborators spared no expense in making a spellbinding follow-up, a tightly produced party that finds the trio having the time of their lives, while carving a niche of their own in music—Christian, mainstream, or otherwise.
Top-notch beatmaking is the bedrock of such numbers as "Movin'" and "Gimme That Funk," two dizzying, multi-layered romps that see Manwell, Blanca, and Pablo serving as masters of ceremonies to some of the biggest party-starters of 2008. The celebration continues with the horn-dabbed "Critical Emergency," a song that wraps a serious message in a swath of disco, soul, pop/rock, and R&B. Shifting gears, thick guitar riffs and a plodding vibe punctuate "Keys to the Kingdom," an uplifting piece that encourages listeners to lift up their heads and wait for the day when the sons of glory will be revealed. Elsewhere, the soaring "Closer" gives Blanca a chance to strut her stuff and get in touch with her inner pop songstress, while the easygoing, guitar-laced "Tonight" is as comforting and reassuring as a pop tune can get.
Not ones to shy away from experimentation, Group 1 Crew try their hand at new things with "iContact,"
"I See You," and "Live Out Loud." In its own way, each composition is an indication of how much the trio has matured—no matter if the choice dressing is electro-pop, jazz-inflected urban stylings, or synthheavy techno funk.
But for all of its diversity and through-the-roof production values, Ordinary Dreamers is only a stepping
stone for the threesome. From passion to passion, from glory to glory, Group 1 Crew hopes to continue
to march onward and upward, seeking not earthly recognition but an even deeper understanding of what
matters most.
"In the minute success that we have as a group, it's never what you thought it's going to be," Manwell says. "So honestly I don't think money is going to do it. I don't think a Grammy is going to do it. I don't think any of that is really going to hold water. It's not like a pessimistic look. The reality in what I've seen is that true joy and fulfillment come when you're on point with the Lord."
Pablo adds, "Now that we're all living in that dream that we've all wanted to achieve, now it's just become an even bigger dream, a bigger passion to use music as a stepping stone to advance the Kingdom and empower the generation that's coming up behind us.