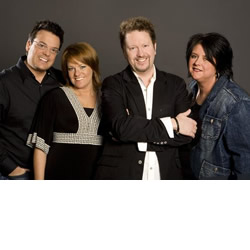 Geron Davis and Kindred Souls
The pulse... the rhythm... the soul... alive with a song. The atmosphere swells and the moment explodes with music and once again... it's all about the worship. That is the heartbeat behind the ministry of Geron Davis and Kindred Souls.

Geron Davis, along with his wife Becky, have become names synonymous with church music around the country and while their names may be less familiar, their songs are not. Holy Ground, In the Presence of Jehovah, Mercy Saw Me , are only a few of the many songs this talented duo have written over the years. Co-partners in life and ministry, they have dedicated themselves to a passion that is the culmination of talent and ingenuity, but most importantly a calling. Not only have Geron and Becky grown to be leaders in the music industry as songwriters and vocalists, they are an integral part of the current upward trend the praise and worship genre is experiencing across America today.

The early years of Geron and Becky's ministry were spent serving in the capacity of music minister's at churches in Texas and Louisiana while continuing to travel part time. In the mid 90's they felt God leading them to Nashville and eventually made the move. Soon thereafter Geron asked his sister, Alyson Lovern and her husband Shelton, to join him and Becky to form the group, "Geron Davis and Kindred Souls." The move was not only right geographically, it was right musically and spiritually. Having released their debut album, "Let It Rain," in 2002, the tight familial timbre and groove this group produces have been compared to Avalon, Manhattan Transfer, and the former group First Call. The album gained considerable attention on AC charts as well as being a break out project for them. Kindred Souls continues with a musical style that embraces a traditional sound, wrapped in a contemporary, edgy package, ultimately leading them into some of the country's largest churches and music programs. They are on the road most of the year, conducting choral workshops and seminars, bringing fresh new music that brings renewed vision and excitement to America 's churches.

Recently Kindred Souls have taken on a new endeavor, not as professional musicians, but as parents. This past February, they began a youth music ministry called PrayZchoir, under the fellowship of Christ Church Nashville, their home church. Geron and Becky, Shelton and Alyson all have children growing up in the church and they wanted to be a part of a growing desire among other parents, to involve their kids in ministry. They could think of no better way to accomplish this than with music. The 70 plus members of singers, musicians, sound technicians, lighting and stage managers, all between the ages of 13 and 19 have already experienced incredible success. A project in the works, a tour for 2005, invitations to sing at the Christ Church Music and Worship Conference; these kids are getting a taste of what its like to be in ministry. Kindred Souls is simply along for the ride and loving every minute of it.

After returning from a whirlwind Christmas tour in December, Kindred Souls is looking toward 2005 with excited anticipation. Geron's heart has always been people... God's people. "I've always said we minister to the people who minister to the people." That's what they will continue to do. "Some of the greatest advice me and Becky ever received was from Bill and Gloria Gaither. They said, 'if you will play from the heart and not for the charts, you'll make it.'" That's been this group's M.O and the pulse will beat on.stronger than ever. The purpose will be, as always, worship.