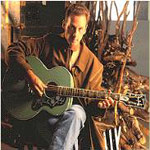 The Story of Us
Saturday, April 07, 2001
Everywhere you look in Gary Chapman's den, you're surrounded by nature. Deer to the left. Bucking broncos to the right. Horses on the wall. Hunting dogs. Fish of the sea and birds of the air. Two old men strolling in a park. Even Jesus, arms outstretched, with a small bird perched on his shoulder—all captured and quiet in bronze or clay or wood or paint.
And there are books. Not just books for show, but books that show tell-tale signs of use. Biographies of singers Bing Crosby and Eddy Arnold. A parenting devotional. Cold Mountain, a Civil War love story. Golf books. Walter Wangerin's narrative Bible, The Book of God. Books on classic composers. Henri Nouwen's The Return of the Prodigal Son: A Story of Homecoming.
Smack in the middle of the room is a most intriguing sculpture, a wood carving of a bear and a boy. The bear stands larger than life, annoyed by the tiny arrow protruding from his right flank and curious about the culprit, the small Indian boy responsible for the shot. The boy—with equal parts regret, fear and wonder—faces the bear. The brass plate at the bottom of the sculpture contains but one word: "Repentance."
In 1999, Gary Chapman has faced more than his share of bears. His grandmother died in January. His steady job as host of TNN's "Prime Time Country" went south when the show was cancelled in August. His mother's health is in decline. Add to all of that the infamous "D" word, the end of his 16-year marriage to singer Amy Grant. If he didn't know better, Chapman would swear God had it in for him.
When asked about the past year, he half-jokingly answers, "I don't want to sound like martyr boy because I don't feel that way. [But] I do occasionally wake up and gaze into the horizon looking for a cloud of locusts."
It's not uncommon for Gary Chapman to offer witty comebacks to questions. But while many entertainers hide behind a mask of humor, evading the truth of their own struggles, Chapman is disarmingly honest. He is known for saying what he thinks—the good, the bad and the ugly—and letting the chips fall where they may.
But on his latest album, Outside (Reunion), his name is conspicuously absent from the lyric credits; all but two songs on the album were written by others, a fact he attributes to the sadness of this season in his life. Still, he says, Outside is no less an accurate reflection of who he is, a musical offering that explores such universal themes as love, loss, forgiveness, dependence on God and the call to share the good news with those who need it most. He believes the album is an honest expression, one audiences will find hopeful despite the recent events in his life.
THE 'ME' PART OF US
Those events, particularly the divorce, are the subject of conversations far outside the walls of his Riverstone Farm property, due in part to recent revelations in the press. In an interview in the November 1999 issue of CCM MAGAZINE, Amy Grant spoke candidly about the divorce and her current romantic relationship with country artist Vince Gill, a disclosure Chapman is less-than-OK with only months after the divorce was finalized. "We had an understanding to handle it respectfully," he says in reference to Grant's comments on Gill. "And the pace with which she pursued the obvious negated that understanding…. I would have been more than happy to just let it all fade into oblivion as we had planned. I don't want this to be 'he said, she said.' That was never our intention. But the reality is 'she said.'"
Chapman seems eager to tell his chapter of the "story of us," noting that his motivation is as much out of a sense of obligation as a high-profile Christian role model as out of the need to be heard and to be honest. "This is about millions and millions of people that have been affected… through years and years of interviews and songs and appearances and [through] our expression of the value of committing yourself to someone before God and honoring that commitment. I know she said [divorce] 'is not about good and bad people, it's about good and bad combinations,'" he says, referring to Grant's comments in CCM MAGAZINE. "I don't think it's about either one. I believe it's about good and bad choices.
"Marriage," he continues, "is like any other situation in life. If you're trying to walk it out and honor God, you've got to surrender your will and lean into what you know His will is. It was not God's will that we divorced. It wasn't. That was not His plan. Can He take what has happened and through His miracle of grace do great things for me and for her and for everybody else involved? Yes. And He is. But that doesn't make it right. It doesn't. It will never make it right."
Chapman says that while his and Grant's marriage had its share of rough waters, they had "a pretty good run" from the fall of 1986—following his admission of and subsequent recovery from drug use—until late 1994. "Our marriage has been painted as a very dark kind of thing, [that we] had trouble all along. That is not the truth. I've got way too many home videos and photographs and memories and laughs that bounce through my head occasionally."
But, according to Chapman, Grant came to him in late 1994 and made a declaration that took him by surprise: "I don't love you anymore. You're the biggest mistake I've ever made… I've given my heart to another man." In the November cover story, Grant told CCM MAGAZINE that she did not have an affair with Vince Gill, whom she met in 1993 at the taping of a network Christmas special. Chapman says he "chose to believe [Grant]" when she told him that the relationship with Gill was not sexual. In an interview in the Oct. 9, 1999, issue of Nashville's daily paper, The Tennessean, Grant noted that while her relationship with Gill may have hastened the end of her marriage, she believes the final result was inevitable.
Chapman disagrees, indicating that he believes the relationship was the primary cause of the divorce. "I am torn between relying on the mathematical ability of intelligent people and the stark reality that a lot of people just don't want to believe the obvious."
Chapman sought counseling on his own in 1995. Though Grant joined the sessions for "a couple of months," Chapman says marital counseling ended four years ago when she refused to continue. By August of 1998, when Grant said she believed herself to be "released from the marriage," Chapman had come to the conclusion that he could do no more. "For five years after I was told that I was no longer loved and that she wanted out of the marriage, I refused that because of the kids. I don't know if it was just the [kids'] natural progression, or my fatigue, or a combination of both. Or maybe God's spirit, I don't know. But I know that in terms of a relationship with my wife, what I'm supposed to be giving my daughters is a picture of what it's like to be treated properly as a woman before God in a relationship. What I'm supposed to be giving my son is how to treat a woman properly before God in a relationship. I was not able to do that.
"When I saw what I was supposed to be doing for my kids, it clicked for me. I went to her and said, 'I know of at least two times in the past three months, that I have literally on my knees begged you not to leave. You need to know that I'm not going to do that anymore.'"
The dates thereafter are public knowledge for the most part. The couple sought professional mediation for the divorce in September 1998. They told the children of their decision in late December. Grant moved out of Riverstone Farm in February 1999 and filed for divorce in March, citing "irreconcilable differences." In early June of last year, the divorce was final.
In the end, he says, "You can't justify your actions with your own judgment of 'combinations.' You can only be justified by whether or not you've allowed God to do all He can do. Did we do a lot in our relationship? Yeah. Did we do as much as we could? No, we did not… or at least she and I would have a disagreement on whether or not we did. Did we allow God to do all He could do? Unquestionably no. No, we did not.
"Irreconcilable differences," he continues, "…is such a lame and hollow phrase. That's what you say when you're afraid to say anything. It's the legalese that allows you to walk away. From my vantage point, we had one irreconcilable difference. I wanted her to stay, and she wanted to leave. Everything else, God could have reconciled."
THE CHOICE TO HEAL
Accepting the failure of the marriage, he concedes, is also a choice, and not an easy one. It requires a daily act of surrender, fighting the all-too-human urge to embrace anger.
"When I hear a song on the radio or see a face on a billboard or the print of an article," he says, "…as a Christian man, I now have a choice. Am I going to lean toward the hatred or the mercy? It forces me to make a choice in my heart every time that occurrence happens. And because I'm trying to be God's guy, I'm going to try and choose the right path."
Forgiveness does not change the past, a wise man once said, but it does enlarge the future. This pronouncement is certainly not lost on Chapman. When asked which he values more at this stage in his life—the ability to give or receive forgiveness—he answers, "I don't think you can separate them. If you're not able to forgive, then you're not able to receive forgiveness… If you're a Christian, forgiveness is at the core of everything." And while he is quick on the draw with the answer, he's the first to say he still struggles with both sides of the concept. The future is looking larger, though, Chapman says. From the sound of things, he is sticking his toe in any number of puddles, professionally speaking. He is determined to work again on TV and is currently shopping show ideas with network executives and producers in Los Angeles. He's still writing songs and is contracted to his record label, Reunion, for three more albums. He's also still flying his helicopter, chasing deer just to watch them run, dreaming of the day he'll do the same for National Geographic. He's even working on an autobiography he started several years back. And although he'd planned to "be an eligible bachelor for a couple of years," he's started dating a woman who, he says, may have ruined that plan.
Still, many people would question how one turns the corner from despair to joy after a year like 1999. "You trust that God really does love you and care for you," he says. "And that you are in the absolute middle of His huge and gentle hand and that you're going to be OK… The only thing that [Jesus] directly told us to do to enter the kingdom of God was to become more like the children. And I think a big part of that is being able to put aside your fear and trust Him with a naïve, child-like faith.
"There's a lot of hope in me," he continues. "Everybody has the same options I do. You face what's in front of you with fear and dread and anger, or you face what's in front of you with hope and some kind of twisted excitement and joy."
SURPRISED BY JOY
Gary Chapman is surviving his season of change by choosing to search for the good in his pain, by striving to understand more about himself and his God. It is a lesson he learned through the poignant challenge of comforting his 12-year-old son, Matt.
It was a couple of days after he and Amy had told the children of their plans to divorce when Gary found Matt in the playroom, playing video games, tears streaming down his face. "I know why [he's crying]," Chapman says, beginning the story, "but I still have to say, 'What's wrong?' He said 'I'm just mad. I'm just so mad.' And I said, 'Me too. Now what are we going to do with it? Do you want to feel this bad? Do you want to hurt this much? Or do you want to find joy?' And he said, 'There's no joy!' I mean, he just lashed out. And I said, 'Let's take a little walk [in our minds]. I want us to go out the back door. What's the first thing you see?' And he said 'Zorro,' which was his little black dog that we had rescued from the animal shelter… a bouncing, fat puppy.
"I said 'OK, let's keep walking. Walk out of the garage, what do you see?' He said, 'I see the swimming pool.' And of course, this is in the winter, so I say, 'OK, next summer, when you've got 20 of your buddies throwing each other in the pool and you're scarfing down ice cream sandwiches, what will that be? Will there be joy there?' And he said, 'Yeah.' So I said, 'Keep going. Walk on back, what do you see?' 'I see the river bottom,' he said. I said, 'What do you do there?' 'I ride my four-wheeler, and I play army and fish.' [Then] I said, 'Is there joy there?' He said 'Yeah.' And I see the light slowly beginning to come on. "It's there," Chapman continues, speaking of joy. "Sure, you've got to look a little harder for it. Sure, you've got to lean into it almost in a ridiculous sense. I mean, you find incredible joy in things that you would have never embraced. I hate cats, but within the past six months, I have found joy in this disgusting little beast over here," he says, rubbing the ears of Possum, the gray and white cat lounging on the sofa beside him.
"You've got to do more than acknowledge [joy]. You've got to feed it and nurture it and almost be goofy with how into it you are, and then something shifts and you go, 'This is valid. This is not me blindly having faith. My faith has turned into reality. I felt something here, and I leaned into it, and because I leaned into it, it was real.' Would it have been real without me leaning into it? I will never know, and I don't ever want to know. My choice is whether or not to apply my faith and my effort or not. And if I do it, it's real."