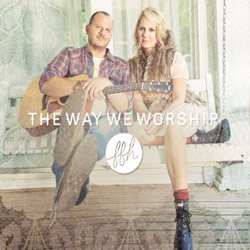 FFH's "As for Me" Tops Billboard Christian Soft AC/Inspirational Radio Chart
Monday, February 18, 2013
Multimillion-selling pop group FFH has reached another career milestone this week, claiming its eighth No.1 radio hit. The group's latest single "As For Me" currently tops the Billboard Christian Soft AC/Inspirational radio chart.
The debut single from FFH's October 2012 release,
The Way We Worship
, "As For Me" originated as a congregational song for FFH frontman Jeromy Deibler's home church, where he often leads worship. Deibler chose to include it on the group's latest record due to what he feels is a timely and relevant message for today's Christian.
"When Jason Ingram first played 'As For Me' for our worship staff, I knew there was something special about it," says Deibler. "Up until this point, being a Christian in this country was assumed. You stood out if you were not a Christian. Now, it's the opposite, and you stand out if you are a Christian. Jennifer and I believe that we are part of a generation that is going to get to be persecuted for following Jesus. And as the lyric of this song says:
As for me I will raise Your banner high.
This song is a statement of choice, that we chose the way of Jesus and fly HIS flag no matter what."
"As For Me" has found an audience beyond the local church, resonating with radio promoters and listeners nationwide as well. Dave Purin, music director/mid-day host at WHCB-FM (Tri-Cities, TN), comments, "I've been a fan of FFH from the beginning and have admired their faith and strength through all their recent trials. I am thrilled to see them at No. 1 again and with a powerful song like 'As For Me.'"
The song and album are currently available
via iTunes
, via
www.ffh.net
, and wherever Christian music is sold.