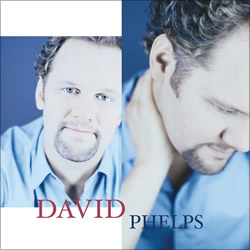 David Phelps
Although he's best known as one-fourth of the Gaither Vocal Band, David Phelps is not a singer to be pigeonholed. To say he's a Southern gospel singer or another quartet tenor is neither adequate nor accurate. In fact, vocally he's just as sure a fit in urban or black gospel as he is in Southern gospel, perhaps even more so. And to relegate him simply to a quartet singer implies that he isn't quite ready for prime time as a soloist. Nothing could be further from the truth.
His self-titled solo debut, produced by Phil Naish (Jaci Velasquez, Steven Curtis Chapman) is proof enough that David Phelps is a pop-gospel performing artist of the highest order. Although musically speaking, the edges of this project are not exactly cutting—a couple of songs sound a bit dated—Phelps is in full possession of the only instrument he needs: his voice.
From the raucous gospelfest of "My Child Is Coming Home" to the sweet falsetto of the Disney-like-soundtrack ballad "You Can Dream" to the sweeping crescendo of the spine-tingling "No More Night," David Phelps delivers a power vocal punch comparable to early Michael English, Steve Green and Sandi Patty. As if that isn't enough, he has interpretive skills not unlike those of Bette Midler and Tony Bennett.
Many have the ability to sing a song; few have the ability to sing and tell a story. That is a rare gift indeed. Meet David Phelps. He has it.
Song Title
Length
Play
Price
Buy MP3
&nbsp

I Cry, You Care




Album: David Phelps

3:29
$0.99
Buy Song
&nbsp

End Of The Beginning




Album: David Phelps

5:29
$0.99
Buy Song
&nbsp

Someone Who Cares




Album: David Phelps

4:05
$0.99
Buy Song
&nbsp

Freedom Song




Album: David Phelps

4:04
$0.99
Buy Song
&nbsp

Miles And Miles Away




Album: David Phelps

4:48
$0.99
Buy Song
&nbsp

No More Night




Album: David Phelps

5:04
$0.99
Buy Song
&nbsp

Let The Glory Come Down




Album: David Phelps

4:06
$0.99
Buy Song
&nbsp

You Can Dream




Album: David Phelps

4:00
$0.99
Buy Song
&nbsp

My Child Is Coming Home




Album: David Phelps

3:34
$0.99
Buy Song
&nbsp

The Wind And The Waves




Album: David Phelps

5:26
$0.99
Buy Song
&nbsp

Fly Again




Album: David Phelps

5:31
$0.99
Buy Song