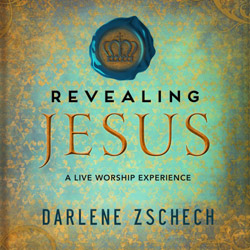 Darlene Zschech Revealing Jesus CD/DVD/Book Releases Today Amidst Wide Acclaim
Tuesday, March 19, 2013
World-renowned worship leader and best-selling author Darlene Zschech releases today amidst acclaim her long-awaited
Revealing Jesus
live worship CD/DVD and 365-day devotional hardcover gift book from RGM-NEW BREED Music / Integrity Music and Bethany House Publishers, respectively. Produced by five-time GRAMMY Award-winner Israel Houghton, orchestrated by Dr. Henry Panion III (Stevie Wonder, Carrie Underwood, Chaka Khan) and featuring special guest appearances and song co-writes with Michael W. Smith, Kari Jobe and Houghton, the
Revealing Jesus
CD/DVD was recorded live Sept. 28 and 29, 2012 at the Church of the Highlands in Birmingham, AL.
Celebrating the release of
Revealing Jesus
,
Get Real Live
will host an exclusive "social fusion" tweet, chat and interview event beginning at 8:30 pm ET tonight and featuring Zschech along with special guests, Houghton, Smith and Jobe. The event will include new music from Revealing Jesus, as well as Zschech sharing a devotion from her Revealing Jesus book. Listeners/viewers are encouraged to join in, sending their questions via Twitter using the hashtag #RevealingJesus and addressing them to @DarleneZschech. During a similar Get Real Live event last month, more than 13,583,000 twitter impressions were received in just two-hours.
Leading up to today's release, Zschech has received widespread critical acclaim with numerous current and upcoming covers, features and reviews from media outlets such as
Worship Leader, Charisma, Worship Musician, Christian Retailing, Houston Chronicle, CCM
, Praise.com, Soul 2 Soul Radio International, Bookreporter and more. Continuing to receive coverage, on Maundy Thursday (March 28) The 700 Club plans to feature the video of the Zschech, Houghton and Jobe-penned song "Victor's Crown" from Revealing Jesus, which released as an Easter resource and has already received over 111,000
YouTube
views. The next day (Good Friday), Praise.com plans to launch an exclusive "14-day devotional with Darlene Zschech" that includes one new devotional each day from the Revealing Jesus book. With an additional exclusive 15-day devotional series for mobile applications currently being featured through
YouVersion.com
, Zschech devotionals, as well as four videos, chord charts and more, are also available on the microsite,
Revealing-Jesus.com
. Then slated to air in April, TBN will premiere all 12 of the new worship anthems featured on the
Revealing Jesus
DVD.
In its March cover story,
Christian Retailing
says that Zschech has "become 'part of the fabric of contemporary worship' in the church." The critics are in agreement as they applaud
Revealing Jesus
:
"Zschech, with Houghton's direction, has crafted one of the finest live worship projects in recent memory, which serves as a bridge for those raised on early Hillsong music who want to sing a new song."
–
Charisma Magazine
"What do you get when you combine world-renowned worship leader and songwriter Darlene Zschech, five-time GRAMMY winner Israel Houghton as producer, guest appearances by Michael W. Smith, Kari Jobe and Houghton, along with several brand new songs and some classic favorites? You end up with one outstanding worship experience and subsequent album: Revealing Jesus, the latest live worship recording from now solo artist Darlene Zschech."
–
Worship Leader Magazine
"In her classic fashion, worship leader Darlene Zschech brings her A-game once more in this newest release."
–
CCM Magazine
"Darlene Zschech's much anticipated new album,
Revealing Jesus
, is her first recorded on U.S. soil and is packed with songs that will be soon be filling sanctuaries around the world… Revealing Jesus is a fantastic worship album for individual listening as well as corporate worship."
–
Foursquare Leader
"Featuring some of the most engaging live music this year, Revealing Jesus gives us a great chance for us to bask in the glory of God as we hear some of the most heartfelt, confronting and comforting worship songs all year."
–
Indie Vision Music
In addition to the 12 new worship anthems on the
Revealing Jesus
CD/DVD, bonus tracks in custom versions of the album will include fresh takes on such internationally acclaimed songs as "Shout to the Lord," "Hosanna" and "Worthy is the Lamb," as well as the Houghton-penned "Jesus at the Center." The custom versions include a "deluxe" CD/DVD combination, an ebook with songs, and an iTunes LP® that includes video plus bonus resources, song devotional videos and more.
The companion
Revealing Jesus
book was poured out from the pages of Zschech's personal journals. Honest, raw, and beautifully written, the devotional contains meditations and Scriptures revealing the heart of Jesus. These devotions are designed to inspire and encourage the reader's journey, especially when times are hard, tenderly calling readers to sit at the feet of the Lord, learn from His wisdom, embrace His love and experience His peace.
Taking her music and message to conferences across the U.S. this year, Zschech will be featured during the
Joyce Meyer Conference
in Portland, OR (May 24 - June 1), at the
Wave Conference
in Virginia Beach, VA (July 31 - Aug. 4) and at the
Imagine Women's Conference
in Los Angeles, CA (Nov 1 –2).