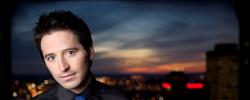 DANIEL KIRKLEY performs song of healing for Virginia Tech
Wednesday, April 25, 2007
Classic-pop artist Daniel Kirkley was invited to perform at the Crystal Cathedral in a special tribute to Virginia Tech, as a way of healing for the school and nation. Kirkley performed "Make It Beautiful" from his debut CD,
Let Love Win,
that releases May 22 on Centricity Records. Virginia Governor Tim Kaine made a special satellite appearance on the program, scheduled to air on "Hour Of Power" this coming weekend, Apr. 28-29. The program airs on Trinity Broadcasting and Lifetime TV networks. (Check your local television listings for air times in your area.)
"Make It Beautiful" was selected as the musical performance for this service because of the lyrics that find hope in desperation:
Come and make it beautiful/let it all be useable/I still believe in miracles and that you can use everything/so Father please use even this/Make it beautiful.
The song was written by Ronnie Freeman and Tony Wood, and with Kirkley's powerful vocals becomes a uplifting comfort during these troubled times.
A special second verse was written for this appearance and the song will be made available to radio:
Life is so uncertain in a blink of an eye/There are those we let go without goodbye/so much is hard to understand/what's the purpose what's the plan/but God you're in control/I believe it heart and soul/so with confidence and with faith I pray.
"It was such an honor to be invited on Dr. Robert Schuller's 'Hour Of Power' and to be part of such a beautiful tribute to the wonderful students and faculty of Virginia Tech," explains Kirkley. "I hope 'Make It Beautiful' will provide spiritual healing to anyone affected by this tragic event."
Kirkley has become a TV favorite with his recent appearances on several regional morning shows in Tulsa, Kansas City, Knoxville, Birmingham, and his current video for the first single, "My New Dawn" airing on the Gospel Music Channel. Kirkley is already confirmed for upcoming TV performances on Daystar's "Celebration,' Cornerstone TV, and CTN's "Nashville Bridges," in support of the new CD, Let Love Win. The project was produced by Matt Bronleewe (Leeland, Michael W. Smith, Natalie Imbruglia) and Mark Hammond (Josh Groban, Nichole Nordeman). Kirkley co-write five of the songs on the project and features other notable songwriters Nichole Nordeman and Cindy Morgan.
For more information visit
www.danielkirkley.com
and
www.centricityrecords.com
.