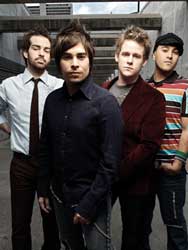 One's To Watch: Let's Ride
Wednesday, August 30, 2006
Circleslide grew out of grassroots ministry opportunities through Youth With a Mission in Missouri. The band soon developed into a sophisticated rock outfit whose immense versatility became one of its strongest assets. Circleslide—now featuring Gabe Martinez (lead vocals/acoustic guitar), Tim Martinez (bass/vocals), Aaron Gillies (guitar) and Mark Alvis (drums)—thrives on this flexibility and uses it to connect with a wide audience. The award-winning band signed with Centricity Records and recently released Uncommon Days, produced in part with some of the band's musical heroes, Steve Hindalong and Derri Doherty of The Choir—the modern rock act which recorded the classic 1990 album Circle Slide. For more information, check out myspace.com/circleslide and circleslide.net.
Paul: What would you say is Circleslide's greatest strength as a band?
GABE: Our commitment to wearing just the right amount of cologne before a concert—that and the blend of our unique sound and our passion to reach the lost and those already inside the church with the most honest music that we can make.
Paul: How is the songwriting process tackled in the band?
Gabe: Tim, Aaron or I will bring a melody line or a guitar part to the rest of the band; and, then, we start sculpting it into a song, calling out chord changes—usually recording the controlled chaos during a soundcheck. When a song starts to take shape, it is one of the most fulfilling aspects of being in this band. Lyrics are usually added later by Tim or me.

Read CCM's entire feature story on Circleslide right now! Follow This Link!