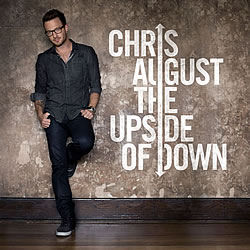 The Upside Of Down
CHRIS AUGUST • The Upside Of Down
(MCA Nashville)
Rating:
4 Stars
"Newcomer Chris August has become a beloved part of the CCM world... and it's no wonder why. He's endeared himself with his unassuming talent, his surprisingly powerful vocal and his impeccable songwriting. This album showcases all three. Particularly on the gospel influenced, 'Amen', where a key change shows his impressive range. 'The Truth is Still True', as well as the folksy, 'This Side of Heaven' are especially lovely, but the whole album is a shining gem." — Grace S. Aspinwall
Click
HERE
to read the August 2012 CCM Magazine feature on Chris August to find out more about him and his album,
The Upside of Down
.
Check out audio clips of the songs on
The Upside of Down
below. . .
Song Title
Length
Play
Price
Buy MP3
&nbsp

Center Of It




Album: The Upside Of Down

3:03
$1.29
Buy Song
&nbsp

The Upside Of Down




Album: The Upside Of Down

3:45
$1.29
Buy Song
&nbsp

Amen




Album: The Upside Of Down

4:50
$1.29
Buy Song
&nbsp

This Side Of Heaven




Album: The Upside Of Down

2:57
$1.29
Buy Song
&nbsp

Restore




Album: The Upside Of Down

3:59
$1.29
Buy Song
&nbsp

Let There Be Light




Album: The Upside Of Down

3:37
$1.29
Buy Song
&nbsp

I Believe




Album: The Upside Of Down

3:46
$1.29
Buy Song
&nbsp

1989




Album: The Upside Of Down

3:53
$1.29
Buy Song
&nbsp

Unashamed Of You




Album: The Upside Of Down

3:19
$1.29
Buy Song
&nbsp

A Little More Jesus




Album: The Upside Of Down

4:06
$1.29
Buy Song
&nbsp

Let The Music Play




Album: The Upside Of Down

3:44
$1.29
Buy Song
&nbsp

Water Into Wine




Album: The Upside Of Down

4:11
$1.29
Buy Song
&nbsp

Meant To Be




Album: The Upside Of Down

3:43
$1.29
Buy Song
&nbsp

Truth Is Still True




Album: The Upside Of Down

3:43
$1.29
Buy Song