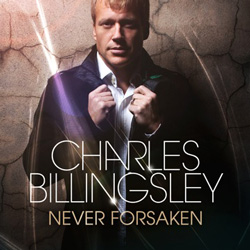 Charles Billingsley Releasing 'Never Forsaken' March 6 With Online Concert Event
Tuesday, February 28, 2012
The release of Charles Billingsley's brand new CD,
Never Forsaken
, is just over a week away so to celebrate this very special project, Billingsley is sharing with his fans across the world his first-ever online concert! On release day, March 6th, tune in at 7pm EST/6pm CST to
CharlesBillingsley.com
to get your front row seat, where you will hear him perform songs from his new project as well as some past favorites.
Never Forsaken
will also be available for purchase that same day at Amazon and iTunes.

Never Forsaken
was inspired after a family missions trip to Guatemala where the Billingsley's joined up with the humanitarian organization Causelife. On the trip, Billingsley and his family journeyed through numerous villages in dire need of fresh water. His inspiration deepened to help build wells across third world countries, while it also grew the inspiration for his new project, especially for its title track.
2012 is a career milestone for worship leader and performer Charles Billingsley as he celebrates his 20th year in music ministry and prepares to release this new studio project. With eight years since his last solo CD released, he is now more than ready to share some new songs and exciting recreations with this project and tour. Billingsley has already kicked off his Never Forsaken tour, so for more information and the most updated tour dates, visit
CharlesBillingsley.com
.
Never Forsaken Tour Dates:
February 27-28 - Southern Baptist of Texas- Dr. Pepper Arena, Frisco, TX
March 4 - Northside Baptist, Liverpool, NY
March 6 - Live streaming concert @ CharlesBillingsley.com
March 7 - Aloma Church, Orlando, FL
March 8 - Fruit Cove Baptist Church, Jacksonville, FL
March 9 - First Baptist Church, Vadalia, GA
March 18 - Rock Springs Baptist, Milner, GA
March 25 - Murdock Baptist, Port Charlotte, FL
March 28 - Grove Level Baptist Church, Maysville, GA
March 29 - First Baptist Church of Pelham, Pelham, AL
March 30 - April 1 - Women of Joy - Freedom Hall, Louisville, KY
April 12 - Turning Point Rally- Richmond Coliseum, Richmond, VA
April 13-15 - Women of Joy- State Fair Arena, Oklahoma City, OK
April 20-21 - Women of Joy- Sevierville Events Center, Sevierville, TN
April 26 - Turning Point Rally- Berry Center, Houston, TX
April 27 - F.B.C. Canton, Canton, GA
May 2 - House of Prayer, Blairsville, GA
May 3 - F.B.C. North Spartanburg, Spartanburg, SC
May 4-6 - Women of Joy- Myrtle Beach Convention Center, Myrtle Beach, SC
May 6 - Calvary Baptist, Florence, SC
May 18 - Christian Cultural Center, Brooklyn, NY
May 27 - Calvary Baptist, Oshawa, ON