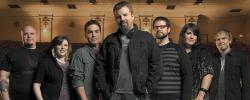 15 Questions with Casting Crowns
Monday, August 25, 2008
Casting Crowns answers the questions YOU posted.
1. NABOO asks: How did you come up with the amazing song "Somewhere In The Middle"? I love that song, and I would really like to hear the story behind it and how [you] wrote the chorus.
Mark Hall: "Somewhere in the Middle" is about that feeling we all get when you're sitting in church, and you suddenly realize you're not as close to God as you once were. That's such a nasty feeling to go, "I'm not walking with God like I was a month ago"—that feeling of guilt that you have and that feeling of lost fellowship that you have. It's in that moment that you realize, I'm gonna run back to Jesus, or I'm gonna stay out here on this spiritual vacation for awhile. It's a tough place.
2. freakofnature asks: There are those who feel as if Christian music is somehow [a] second-class citizen to the music of the secular world. What do you think the real role of a Christian artist should be—artistic-minded first or ministry-minded first?
Mark: I can only answer for me, because every artist is different. When you lump everyone into a group, that's when you end up with stupid stuff [like] "Christian artists are less artful." The term "bad art" doesn't make sense. Art is something we see or hear or experience that generates emotion. That's what art is. To say something is "bad art" is a misunderstanding of what art is. I'd say that I'm a youth pastor and a believer, and the music is the plate that the meat is served on. I think that there are times that the "plate" has become so much of the priority that the "meat" may not be making it out there… This person has given me four minutes of their life, and I need to be saying something that draws them closer to Jesus. I hear people say that "your lyrics are hard-hitting, and it's not all watered down and namby-pamby," and I don't get that either. I think that there are not more spiritual or less spiritual lyrics. I think writers are writing out of their gifts. I think if Paul wrote a song… Here is a guy who walked out onto the steps of the city and said, "Hey, you know what the problem is? You killed Jesus!" And then you'd have Barnabus write a song, and [he'd] be like, "Hey man, its going to be okay, and let's just get together in a room and talk about it." So you have two different guys writing lyrics. What we have done is started categorizing them as more spiritual or less spiritual. So the content has to be first, and you say it with the gifts God has given you.
Hector Cervantes: Ministry minded first. We are called as Christ's followers to preach the Gospel to the nations (Matthew 28:18-20, Mark 13:9-11, Mark 16:15), whether it's through what we do or what we say. God did not save us and then start the process of turning us into His son so that we could make music. He did all this so that we may show others the truth we now know. From an artistic standpoint, I believe that we serve a creative God, and if He is first lifted up, then He will provide the means (music) for His glory. Really, "second-class citizen" is not bad compared to flogging, a crown of thorns and crucifixion. Thank you, Jesus!
3. marandalynn27 asks: You guys are my absolute favorite group. I know you guys tour a whole lot. Is there any time planned in the future for you guys to take a break? I think you deserve one!
Mark: Well actually, we're not "road dogs." We travel Thursday, Friday [and] Saturday. I'm still on staff at Eagles' Landing, but we get breaks. There are other bands out there that are really, really going hard. They are all friends, and we pray for them.
4. MyGodIsEnough asks: What does the name "Casting Crowns" mean, and why did you decide to use it as the band name?
Mark: The Scripture is Revelation 4 where it talks about the 24 elders around the throne, putting their crowns before Him. For me, as a believer, if you're not careful, little things will rise up in your life and become important. And it will create distance between you and God; and these little kingdoms don't have to be bad things, sometimes they can be good things. They just take our focus away, and we have to let these kingdoms fall and fall before Him and make sure that we are setting apart Christ as Lord in our lives.
5. Ccmusicman asks: I understand that you're coming out with a new Christmas project this fall. Are you using familiar Christmas songs or writing new ones?
Mark: Yes and yes, we are doing some originals and traditionals; a lot of different stuff. We are really excited about it. We recorded it in June, which was odd!
6. TorchHeart asks: When you guys are writing songs for a new album, what do you feel is the best inspiration(s) for your music? (i.e.: The Gospels? Personal experiences? Emotions? Relationships with God?)
Mark: Uh, yes! The songs come from the ministry we have here at Eagle's Landing.
7. ladybuglvr asks: What is your favorite song to perform?
Mark: Right now I would have to say somewhere between "East To West" and "Praise You in This Storm."
Hector: "What This World Needs," Jesus and rock 'n' roll. (These are a few of my favorite things.)
Chris Huffman: My favorite song to perform is "What This World Needs."
8. DenimDiva asks: You must get tons of emails, letters, etc. from people who feel like they have no hope. How do you keep it in perspective?
Mark: I've been a youth pastor 17 years, so hurting with people is something God has had me in the middle of for a long time. When people come to you hurting, our tendency is to try to fix things. I'm a fixer. I want to solve the problem, but that reminds me that I have to lay them at Jesus' feet. He calms their storms, or He walks through it with them. The fact that I'm even involved with them, or this person, is because they heard a song that God let me write. So there's no pressure on me; I didn't even write the song. In my mind, I'm just the first one who got to hear it. I'm getting to share what God's doing in their life. It's not "Mark coming in to save the day." They're moving closer to Jesus, and I get to be there.
9. blakeyboy001 asks: I know Mark has ADD and dyslexia… How does that affect how a concert goes?
Mark: Well, it affects a lot! I forget the words to the songs. I'll catch someone's face, and they'll be emotional and I'll start praying for them onstage and forget the words. Or I'll just look over and see Juan [DeVevo] make some funny face and be gone. That's the ADD half of my contribution to the band. On the dyslexic side: During festival season, we don't do the same set; it's different, you never know. So I can't memorize the set list. I have to read it. And that's very, very dangerous. I usually do about two songs, and somewhere between two and three, I look down and it's like trying to read an ant bed. So everyone knows, if it's festival season, just listen real close; we might be changing the plan!
10. NABOO asks: If you could perform anywhere in the world, where would it be?
Mark: I can be very spiritual and say, "Right here in my home church," or I can be artsy and say, "Prague." So I will come right in the middle and say, "Wherever the band is!"
Hector: The next G8 Summit or the UN.
Chris: I would love to perform in Egypt!
11. renewed08 asks: How did your band originate?
Mark: We started as a youth worship band in Daytona Beach, leading worship on Wednesday nights, and [we] made a CD for the kids to hear and take to school with them. It got into different hands, and that's how we got here. We still lead worship, so nothing has really changed on that side.
12. DenimDiva asks: How do you balance family life and work and still keep God the top priority?
Mark: My family travels with me, and my wife, Melanie, is our road manager. So we do it all together. That's No. 1, and No. 2 of keeping my spiritual life in check is coming home and being part of a growing ministry. If all I'm doing is walking around and telling a story about what's true every night, then I could see myself hollowing out. But I come home, and I have to be growing. I have to be fresh, and have to have that. So that burdens me even more in my time with God—that I'm not just walking with God for me, I'm walking with God for those I'm discipling. That's great accountability.
Hector: It's a constant struggle, but if I'm first giving God the glory He deserves, then He will continue to bless me with the quality time my wife needs, and He will continue to bless the friendships I have in the band.
Chris: Well, to be quite honest, I'm still learning how to do that. I don't think I'll ever say I've got it down, but the things that matter most are following God's leading, spending time studying the Bible everyday [and] prayer. Just quality time at home with my wife and daughter mean the world to me.
13. danielmount asks: Do you ever listen to Southern Gospel? Any favorite Southern Gospel artists?
Mark: When I go to my parents' house, we usually watch at least one Bill Gaither video—at least one. I would say my favorite moments on that are when Mark Lowry and Bill Gaither go back and forth. I like the ones where they're one big choir, because I grew up with that. I know a lot of the songs.
14. huskarine asks: Which artists did you listen to growing up? Were any quite influential [for you]?
Mark: I didn't start listening to Christian music til I was 21. We didn't have it in the area when I was a kid. We had Top 40 radio and college radio and alternative and all that stuff. I first started listening to Christian music during the era of "The Great Adventure" (Steven Curtis Chapman), and 4HIM (Basics of Life), and then dcTalk came out and rocked my world. Then Third Day came out and rocked it again… Those groups shaped me; Audio Adrenaline as well.
Hector: My favorite groups growing up consisted of Nirvana, Rage Against the Machine, Deftones, Pearl Jam and other popular rock bands from the '90s. The most influential and inspiring band to me though, both lyrically and musically, is Switchfoot. That's a band I don't think I can ever stop listening to.
Chris: I listened to a ton of different groups: dcTalk, Jars of Clay, Petra, Guardian, O.C. Supertones, Five Iron Frenzy, Earthsuit, PFR, Smalltown Poets, Grammatrain, Plankeye, Bleach, Audio Adrenaline; and the list is still growing today.
15. ladybuglvr asks: What is your favorite song you [have written]?
Mark: "I Can Only Imagine." :)
For more info, visit castingcrowns.com.
Check out this month's 15 Questions featured artist, Family Force 5, and post questions for them here.