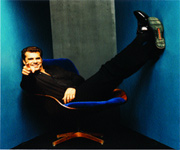 No Guts, No Glory
Since his conversion at age 20 after an Andraé Crouch concert, Carman has made it his life's goal to share the gospel message, to lead people to know Christ and to encourage Christians to be bold in their faith. He has used the gifts he's been given—the gifts of entertainment and communication—to accomplish this goal. He has sold millions of albums, and in 1994, he performed before the largest single-night crowd in the history of Christian music when over 71,000 people filled Texas Stadium for his "Raising the Standard" tour. Even now his tours draw over 10,000 people a night. Most importantly to Carman, countless individuals have accepted Christ under the influence of his music and ministry.
But his success has not been without controversy, particularly within the Christian music community. Carman's approach to evangelism often involves high-publicity tactics (like the "1 Million Souls by 2000" promotion) which rub many Christians the wrong way because of the perceived implication of self-accomplishment. Beyond that, Carman Ministries' financial operations have been questioned in the past (including a 1996 article in The Tennessean, Nashville's local daily). While the notion of free concerts—not charging people to hear the gospel message—is a noble endeavor, naysayers have raised concerns about the potential conflicts of interest that can emerge by tying a non-profit ministry organization to the for-profit music business. And Carman himself, however unintended, has been seen as self-absorbed, aloof, unapproachable.
Music critics, even those in this magazine, have labeled Carman's music and videos as gimmicky, theologically-impaired theatrics. In fact, Carman has felt personally wronged by some of CCM Magazine's reviews of his work—so much so that for several years he instructed his label, Sparrow Records, not to service press materials to CCM and he would not even consider an interview... until now.
When you add it all up, there is rarely a neutral corner when it comes to sizing up Carman. You either adore or abhor his music; you either embrace or disdain his theological perspective; you either appreciate or question his success. But regardless of how you feel, one thing's for certain: Nearly everyone is curious about what he's going to do next.
On the Ropes
If you know anything about Carman, you know that he's not your typical Christian artist as his music draws on a variety of styles, from rap to lounge and all points in between. His most memorable songs—like "Revival in the Land," "A Witches Invitation" and "The Champion"—are presented in story form, giving critics seeking more artful musical expressions plenty of room to find fault with his not-so-subtle approach. And Carman is not just a singer, singing a story; he's a character in the story.
Beyond the story songs, there are songs of praise & worship ("I Feel Jesus," "Let the Fire Fall," "There Is a God"), songs of declaration ("America Again," "Great God"), songs for pure entertainment ("I Love Jesus, Yes I Do," "Who's in the House") and songs that deal with themes of spiritual warfare ("Satan, Bite the Dust!," "No Monsters"). It's a balance, Carman says, that is often overlooked by critics who tend to write him off as one big gimmick after another. There is a method to his madness, so to speak.
The fact is, he says, "We have touched a lot of people with what the critics have rejected. I am used to being criticized, but one thing no one has ever asked me was, 'Why do you do it?' And there is a specific reason. It is because, before I actually went into ministry full time, the Lord impressed upon my heart to do two things: unite the generations and the denominations.
"We do music in such a way that would bring the body of Christ together. And, if you bring the body of Christ together, they will bring with them the [non-Christians]. So, when I go in to do an album, I always am reminded of my initial directive from the Holy Spirit, to make sure that it unites the body and brings the generations together."
As for the assertion that Carman leans too heavily on songs about kickin' Satan's butt—spiritual warfare—he doesn't mince words. "The only thing I don't do is, when it comes to the spiritual warfare, I don't run from it. I deal with it... I may have a song or two that pulls back the curtain, but that's about it."
People tend to gravitate, he says, toward that which is outside their comfort zone, and instead of being open to the message therein, they choose to be cynical about that which they don't understand. "It's hard to enjoy and appreciate what a guy like me has to offer if it's outside your realm of experience. Because then, it's like trying to describe heaven, having never been there, you know?"
Perhaps one of the biggest mistakes any critic of Carman's music makes is in not understanding a basic premise: that his music is created for and communicates best in a live setting. Songs that sound overdone or campy on an album draw huge responses from an audience. Over the years Carman has made it a priority to be a student of his audience.
"I think I have a greater understanding of what it is that I do and what it is that makes it work and what makes it not work," he says when asked how he's grown as a performer. "By studying people and reading the [Bible] and beginning to understand more how God moves... by studying an audience, studying their reaction to what you do, listening to them, listening to what lifts them up, listening to what makes them quiet, listening to what makes them think."
Nowhere is this more evident than on Carman's current $9 million "Heart of a Champion" tour, where he entertains, encourages and preaches to 10,000-12,000 people a night. With a full eight-piece band, a horn section, eight dancers and enough lights and pyrotechnics to rival anyone in Vegas, Carman has a strategic plan for every minute of the show—nothing is impromptu—gearing all he does for maximum results. If the audience only responds to a four-minute song for two minutes, then that song is cut... to no more than two minutes. Ultimately, he says, "Whatever affects the people affects me because I am here for them."
As for the rest, those who either don't "get it" or don't care to understand that there's a large audience out there who does, Carman is beyond letting opinion shape him in any significant way. "All I'm doing is the best I know how. All I'm doing is what I know," he says. "And if the Lord shows me this or if He shows me that, I'm held accountable for what I know, and I'm going to go out and give them what I know."
Beyond that, he says, "I couldn't care less about someone who may be antagonistic towards my zeal for God."
"As an entertainer," says his manager, Rendy Lovelady, "Carman can't be put into the same category with other Christian artists. He's not cool and hip according to industry standards, but when 15,000 people show up and are riveted by what he has to say, you have to admit there's something there... He's not trying to be cool or hip. Carman's true passion is for evangelism. He works very hard and is determined to use any means possible to take the gospel to the masses.
"The industry is wrong," Lovelady adds, "This diamond is for real." In conjunction with the tour and in support of his upcoming feature film debut, Carman's 30-song, 25th anniversary double CD, Heart of a Champion, released last October. In addition to 24 classic Carman tracks, the album includes six new songs—all produced by Glenn Rosenstein (Jars of Clay, Caedmon's Call). It's an album that proved to be as much of a surprise to Carman as any he's ever made, in part because he wasn't convinced he'd be making music again.
The Tale of the Tape
In 1996, Carman noticed his record sales and audience size on tours were slipping slightly. "It felt like God's hand was moving somewhere else," he says, looking back. "And to me, it has never been about the music, per se, it has always been about the message, and for some reason, if the people were not receiving the message through the music, then it was time for me to move on."
And so, Carman made either the bravest or most insane move a man in his position could make—transitioning his life from a highly successful recording career and a sprawling Nashville estate to a new start as a no-name acting student with a furnished apartment in Studio City, California. He began taking private acting lessons and enrolled in a Writer's Bootcamp to work on a screenplay. It was, Carman says, the fulfillment of an aspiration he's had since he was a kid, a passion for film that he'd been feeding, little by little, in his videos over the years.
"When I went out to California, I had no connections, I didn't know any movie stars or friends in the business. I had a couple of people that were willing to help me set up some meetings, but that was about it. But I went out there knowing in my heart that the Lord called me to put the gospel up on the screen. So, one way or another, that was going to happen."
In his debut feature film, Carman's The Champion, which is scheduled to release on 1,000 screens nationwide next month, Carman's story idea comes to life in Orlando Leone, a retired boxer turned street preacher who dreams of building an inner-city youth center. When Leone defends himself by throwing a knockout punch at the current heavyweight boxing champion, he is blackmailed by his own brother to either get back into the ring or lose his dream.
This is a first for any Christian recording artist: a starring role in a major feature film based on a self-written story, a story which has also been turned into a novel (published by Thomas Nelson). No small feat, even for a man known for doing the unexpected. To prepare for the role, Carman lost over 30 pounds doing strength and weight training for six months with personal trainer Bob Fol, who has trained the likes of Tom Cruise, Nicole Kidman and Michael Keaton. Fol was most impressed with Carman's determination and drive. "Unlike a lot of people, Carman understood what it takes to get results," Fol says. "I threw everything at him, and he never complained. We never even had to slow down at all. Whatever it took, he was willing to do. He never questioned it. He just leaned into it and gave it all he had. To accomplish all he did, at age 45, is amazing."
But the physical challenge wasn't the end. His feature film acting debut proved to be a fertile testing ground for Carman mentally and spiritually, as well.
Carman says, "I remember driving up the first day and seeing all the trucks and the portable dressing rooms lined up, and 150 people scurrying about and cameras running back and forth and realizing I did not know, really, what I was getting into."
The whole process was incredibly intimidating, but he says, "[I knew] it wasn't about me being successful. It wasn't about me being able to draw a crowd or do another record. It was about me just being obedient to the Spirit of the Lord and going where He sends me to go."
Not unlike Carman's own life, the new movie is the story of one man's struggle to remain true to his calling. For Carman, right now that means using film to more effectively communicate the gospel.
"If the Lord sends me to Hollywood, this is the only reason. It's not like there aren't better actors. If He sends me... it is because for years I have been fighting spiritual wars, fighting to be able to stand in front of the stage, fighting to keep the ministry going and fighting my own critics who would seek to have my head on a plate, you know, even more so than the devil would... The only reason I would be here is to take the gospel and put it on the screen. Period."
After the Bell
There is a very fine, nearly invisible, line between Carman Licciardello, the man, and Carman, the stage persona. Whether in stage clothes or in shorts and a T-shirt, there's no distinct telling where one begins and the other ends. He's almost all business all the time, a tenacious man of action not content to wait on others to move and not particularly fond of handing the reigns over to anyone. Sunglasses and a cell phone are standard equipment, and he's been known to appear in public with bodyguards. When he's in the ring, when he's working, which is almost always, his mission belongs only to him. He is a man who cares deeply about truth, justice, worship and ministry. He'll fight for any and all of those things, especially on behalf of others, but rarely for himself.
But, if you listen well, you'll also hear his dry sense of humor, his old-fashioned Italian sense of family values and his easy way of laughing at himself.
"Carman is the type of person who invites you into his space immediately," says Mel Ayers, pastor at In His Presence Church in Studio City, Calif., where Carman attends. "He's really unimpressed with everybody, even himself. He's not a name dropper. He's just doing what God has called him to do, and he recognizes that he's only doing what he's been gifted to do. He is very humble and yet very confident in what he knows to be true."
Confidence in one's gifts, Carman says, is often misinterpreted. "If you're confident in whatever God's called you do, it's easy for somebody to mistake that as pride, you know?"
But the life he's chosen, he insists, isn't conducive to pride. Even after 25 years, he sometimes struggles with the idea "...that I should be given this responsibility or have this particular type of gifting because I don't feel any different or special. I don't have anything over anybody. [There are people who] pray longer and harder than I do... 'Why me?' you know? I certainly didn't earn this, but I don't want to mess it up either."
Looking closely, you can even see cracks in his tough Italian exterior, especially when Carman talks about the loss of his brother, Mario, who died suddenly from a massive heart attack last May. "The worst part was having to call my mother and tell her that her son died. I wish that upon no man. It just shattered me in a thousand pieces, you know, like if you were to take a shotgun and shoot it at a Nerf ball and just watch it explode.
"Ever since I was little, [Mario] always protected me and watched out for me. The whole time I wanted to be like him... He was fearless, afraid of nothing, afraid of no one. Nobody intimidated him. He did the things I imagined I would like to do but would never have the nerve."
Driven, determined, complex and convinced, Carman will probably always be one of the most misunderstood, most talked about Christian entertainers. The reality is that Carman's just another flawed human being, doing the best he can do with what he's been given. His hands may be taped in self-preservation and sanctified bravado, but the boldness and power of his right cross—a near contagious zeal for evangelism—is nothing to sneeze at, even if you disagree with his methods.
"The day that I accepted the call of God on my life," Carman says, "I had no idea where it was going to take me or how much of myself I was going to have to give to make it happen... I didn't realize what it would be like to travel, to be away from home and the normalcy of life. Not doing the nine-to-five thing. Not having a family. The pressures. Having to take up offerings. I really struggled with that. I didn't want to have a ministry where I took up offerings. Who wants to ask? It's still a struggle every night. The two hardest things I do [on tour] are the altar call and the offering because you're asking people for something. You're asking them for a portion of their lives. Sometimes you're asking them to give their whole life. But if you believe in what you do, you'll do it."
And after 25 years, Carman certainly still believes in his mission. Though his medium may vary—music, tours, film, TV—Carman is still in the ring, still packing a powerful punch that attracts thousands. He presses on, ignoring swipes from critics, because he believes more than anything that he's been called to fight for souls the only way he knows how.