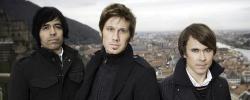 BUILDING 429 Trades In Non-Stop Summer For Even Busier Fall
Thursday, August 30, 2007
(NASHVILLE, Tenn.) - Dove Award-winning Word recording artist Building 429 wraps up a summer of non-stop event and festival appearances, moving on to an even busier fall touring season. The band will be featured artist on the fall 2007 SHOUTfest tour in addition to co-headlining two other national tours.
With major appearances this summer including Luis Palau's Heartland Festival, the Franklin Graham NY Penn Festival, and Celebrate Freedom, as well as a national radio single and music video campaign for "You Carried Me," Building 429 will hit the road Sept. 9 on the fall 2007 SHOUTfest tour alongside Jeremy Camp, Jars of Clay, Pillar, Superchick, Shane & Shane, Bebo Norman, and The Afters, among others. This year's SHOUTfest tour will stop in 20+ cities through November. For tour dates visit www.shoutfest.com.
Between SHOUTfest dates, the band will co-headline a national tour alongside INO/Columbia Records artist The Afters. This tour will additionally feature Gotee Records band StorySide:B as well as Word Records' Jackson Waters.
Lastly, Building 429 and worship phenomenon Aaron Shust will team up for a run of dates in November. A complete list of tour dates is available at www.building429.com.
Produced by Brown Bannister (MercyMe, The Afters, Steven Curtis Chapman, Third Day) and mixed by F. Reid Shippen (India.Arie, Johnny Lang,) Building 429's latest project, Iris to Iris, has set a new standard for future Building 429 releases. All Music Guide calls Iris to Iris "an impressive forward step for the group" and praises Building 429's "refined sound." ChristianityToday.com hails the album as "a quantum leap forward for the band stylistically," commenting on its "conviction" and "lyrical maturity." Even CCM Magazine agrees that Iris to Iris "takes its [Building 429's] artistry to a new level," describing the record as "a sonic feast—musically textured and lyrically substantive." The band's current single, "You Carried Me," is currently being played on Christian Adult Contemporary radio. For more information on Building 429 visit, www.building429.com.