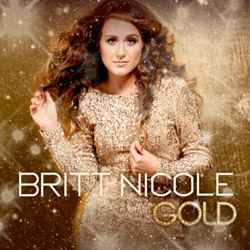 Pop Songstress Britt Nicole "Finds the Sweet Spot" with Shimmering Third Album, Gold
Wednesday, April 04, 2012
Sparrow Records recording artist Britt Nicole, newly dubbed as Christian music's "Queen of Pop," struck
Gold
with both critics and fans alike as she unveiled her third studio album last week. The shimmering 11-song project, with tracks produced by Dan Muckala, David Garcia, Christopher Stevens and Josh Crosby, ranked in at No. 1 on the Christian Soundscan charts and No. 41 on the Billboard 200, giving Britt a 38 percent increase over her last album
The Lost Get Found
.
Gold
also consistently held the No. 1 spot on the iTunes ® Christian & Gospel Albums chart throughout its debut week.
Just last night, "Ready or Not" from
Gold
, was heard on NBC's popular TV show "The Biggest Loser." The collaboration, featuring hip-hop artist Lecrae, has become a quick fan favorite from the new album – second only to the album's first single, "All This Time."
In addition to gracing the cover of April's issue of
CCM
magazine, Britt's brand of accessible pop and meaningful lyrics has the media raving about
Gold
, as well. Here's just a small slice of the praise being heaped on the album:
"Britt Nicole is the Queen of Pop for the Christian music market. No female comes close to her style and energy. This album is a keeper." – Hollywood Jesus
"…with
Gold
[Britt Nicole] is poised to "Breakthrough" as the premier female artist in all of Christian music. She has an infectious and upbeat musical style, layering her strong and distinguished vocals over the top of one hooky melody after another. Britt Nicole has really emerged as one of the top female vocalists in any genre, and she is a great role model for girls struggling with identity issues. This album is loaded with positive grace-filled messages of hope. Don't miss out on one of the most upbeat and fun albums of the year." – New Release Tuesday
"It's a rare thing to find a CCM artist who appeals to top-40 fans, balancing Christian themes with a sound comparable to today's radio hits. Britt Nicole finds the sweet spot with
Gold
…" – Christianity Today
"…the album has a cohesive feel that truly defines Britt's pop-centric sound. Whether a heartfelt ballad or a straight-up dance track, the songs are lyrically raw and musically relevant, telling real-life stories fans will instantly identify with. This album solidifies Britt's stance as a top female vocalist and songwriter. It's rare that pop this good contains this much substance. However, with
Gold
, Britt proves good pop music can be way more than a collection of flash-in-the-pan hits.
Gold
is evidence pop music can be thought-provoking." – Crosswalk / TheFish.com
"With her latest release,
Gold
, Britt Nicole continues to stake out a place in the top echelon of today's talented young female Christian artists." – Breathecast
In addition to the success of
Gold
, the album's anthemic lead single, "All This Time," has reigned in the No. 1 spot on the CHR chart for the third consecutive week, and the song is currently still climbing on the National Audience Chart (Top 5 at No. 5) and at AC (Top 5 at No. 3).
For more information about Britt Nicole, please visit
www.brittnicole.com
.