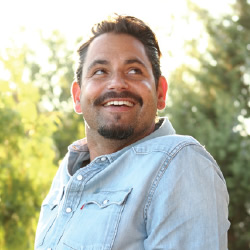 Brenton Brown: Simply Called to Worship
Monday, October 01, 2012
When God calls His servants to action, they are simply called to worship Him — nothing more, nothing less. Yet, how we choose to worship Him with our talents and gifts preceeds the anointing and outpouring of His Spirit. Coming from across the globe, this worship leader listened and obeyed, becoming part of the musical revolution for Christ across the nations. With the release of his first solo album,
God My Rock
, join CCM in getting to know leader and writer, Brenton Brown, and how he simply worships.
CCM:
Christian music takes so many different forms today and it's exciting to hear the different sounds created by worship leaders around the world. In what unique ways do you feel God has called you to be a part of this movement?
Brenton Brown:
To be honest, I've never felt like God called me to be a part of a movement. I've always felt He just called me. The things that have happened in my life subsequently are really just a part of that, and are still surprising to me!
I literally prayed the prayer 'if you'll let me help you somehow, I will do anything you want'... A part of me was hoping it would involve music, but I thought it was more likely to be as an usher! The uniqueness each of us bring to this endeavor of following Jesus comes from the infinite number of different ways we experience life on earth, and the hundreds of ways we differ from each other
CCM:
South Africa to Oxford to Malibu — You've had quite the journey! How did you end up in the US and do you see yourself settling here long term? Where do you envision yourself and further, your music five years from now?
Brenton:
My family lives in the US because a group of Christians from Southern California came to Cape Town, South Africa to share what God had been doing in their community. We helped host them, and surprisingly, strong friendships developed in that short space of time. Jude (my wife), and I have two American daughters and we imagine we will be living in the great state of California for quite some time.
Musically, the songs seem to come out of my relationship with God. It's kind of a backwards way to make music, but I think I'm slowly surrendering to the process. The better we're getting on, the better the songs seem to be.
CCM:
What inspired this worship project and what's it like to have a live solo album?
Brenton:
It is super great to have a live record. These songs are all written for community. They're meant to be sung together, so having a record with more than just my voice singing the songs is a fantastic treat.
All the songs on the record seem to have come out of different parts of God's church that we've served with over the last year or so. "Jesus take all of me," for example, is an altar call/response song that was written in the green room while Will Graham preached at an event in Texas.We've done a lot of youth events (Hume Lake Christian Camp, Dare2share), outreach events (BGEA, Alpha USA) and served a lot more at our local community (Calvary Community Thousand Oaks, CA). The songs on this record reflect those relationships.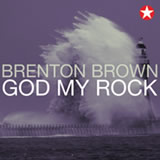 CCM:
With a background in youth ministry camps, how does that tie into
God My Rock
and were there any "pearls" you uncovered during the process?
Brenton:
Like most of the 'youth' at the camps we play at, I have a very short attention span. So these songs start quickly and get right to the point!! If that's a 'pearl' for youth worship leaders, I'm sure it's one they have already!
CCM:
What's your favorite attribute of God and where have you seen it exemplified in your life?
Brenton:
My favorite attribute of God is His joy!! "These things I have spoken to you, that my joy may be in you, and that your joy may be full" (John 15.11). John Piper calls this God's 'indestructible joy;' it defies logic and circumstances, floating me like a life vest in the heaviest of waters. He is entirely dependable... You might almost say, He is God my rock.