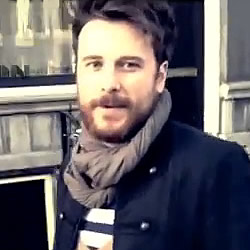 Benjamin Dunn & the Animal Orchestra
Introducing Benjamin Dunn & The Animal Orchestra and their unique expression of love and worship. With a merging of vintage synth-driven dance, electro- pop and and eclectic instrumentation, Dunn consistently re-invents his sound following his ever-evolving artistic vision for worship.

The California natives, Benjamin and his wife Stephanie, have spent the last 8 years traveling across not only America but to the far corners of the world, sharing their unique sound and loving the poor along the way as they frequently tour grabage dumps and leper colonies. They just recently finished a log-time dream of creating an orphanage and home for children from the garbage dumps and leper colonies in India.

Benjamin & Stephanie Dunn, their ministry (joyrevolution), missions, message and band are all about breathing fresh, new life into our ideals about worship, music, creativity and ultimately about our God and His infinite love. They're about the discovery of something beautiful and moving -- the incomprehensible Grace of God and it's eruption from our hearts into song, art, discussion, theology and life. They're about shattering the misconceptions of how worship has to look and sound, the overdone concepts of what is "relevant" or "current," and stepping into something beautiful genuine and alive.