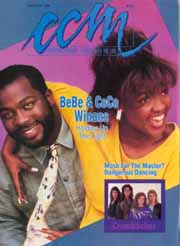 Heavenly Love
Monday, February 12, 2001
Saturday, December 10, Los Angeles, California: The NAACP's annual presentation of the Image Awards is coming to a close. The Reverend Jesse Jackson is winding up a closing speech. Backstage, Benjamin and Priscilla Winans, being known better all the time as BeBe and CeCe, are waiting in the wings with Whitney Houston, ready to tear the house down with a performance of "Hold Up the Light" from their new album, Heaven. BeBe thinks to himself, "I never wanted to be in the forefront, Lord, what are you doing now? I'm standing next to one of the biggest female stars today, and not only has she been kind to us, she's become a real friend. You are really doing something here, aren't you?
Indeed, anyone who saw the trio tear it up on the telecast of the awards ceremony on NBC last month would probably testify that something was going on. A look at the charts in the mainstream trades would add further fodder for discussion, with "I.O.U Me" reaching #72 on Billboard's black chart, #25 on their Adult Contemporary chart, and #17 on Radio and Records' AC chart, where their latest single "Heaven" is moving up as a "breaker" at the time this article is being written.
In short, this brother and sister duo's hybrid of R&B/pop music, first class production values and gospel lyrics has produced two albums that are winning them new fans and friends on a daily basis. How do they explain it? CeCe states simply, "I wish I could tell you that this was some great plan that we strategized, but we didn't. We've just prayed, and BeBe, Keith (Thomas, who co-wrote and produced) and myself just made these albums the best we could. The rest is God, as far as we're concerned."
However you analyze their current successes, it's always good to back up a bit and look at beginnings. Most CCM readers will recognize the name of Winans, since it's quickly becoming quite prevalent in contemporary gospel music. There's The Winans (comprised of brothers Marvin, Carvin, Michael and Ronald), Vicki Winans (Marvin's wife), Daniel Winans and his group The Second Half, and more to join the recorded ranks soon. All this from a family that produced 10 children, all of which are now involved professionally with gospel music.
Their parents, David and Delores Winans were once part of the Lemon Gospel Singers, and shared bills with the likes of Sam Cooke and Lou Rawls in the early stages of their career. But Mom and Pop were determined to keep another pop out of their house. "We couldn't bring any secular albums into the house, so we were raised on gospel," says BeBe. "Our folks loved traditional quartets and choirs, but when Dad would leave the house man, we'd put on Andrae Crouch and the Hawkins family and crank it up. We had to go to church, but we fell in love with it. We had youth choirs and activities all the time. It was not what you'd call a boring church. And like the Bible says, in the end we just didn't want to depart from it."
In 1980, BeBe took his sister from their Detroit home to North Carolina to audition for the PTL Singers. Though only 16 at the time, she passed the audition. BeBe did not, but was invited a week later to join CeCe in the group.
Later they were to be paired up in front of the cameras as a duo, recording an album that produced their cover of Up Where We Belong that was nominated for a Grammy. Though that ministry has been forever scarred by scandals, BeBe looks back with anything but anger. "I thank God for my time there, I believe we were used to tear down some walls of segregation that existed, and they taught us the artistry of being a gospel artist, how to present yourself to an audience and a camera. I look in my pocket and I can't even find a pebble to throw. We're talking about two wonderful people that had a big dream and big hearts who made big mistakes, and there but for the grace of God go I, you know?"
The big break came in 1987 when Sparrow signed them and matched them up with producer and keyboard player Keith Thomas, who CeCe declares with tongue in cheek to be a black man trapped in a white man's body. "Just look at his curly hair!" Their first self-titled album yielded four hits that crossed color lines, sacred/secular boundaries and chart distinctions with a single bound. What distinguishes their success as being so significant is the acceptance of their singular identity in both markets as contemporary gospel singers. Other popular R&B singers such as Phillip Bailey and Deniece Williams have released contemporary gospel albums, but have maintained separate careers in mainstream music. In the pattern of Amy Grant, a single product is recorded for release in both marketplaces. And it's working. Says BeBe, "We don't judge anybody else for how and why they do what they do, God is worthy to be praised, whoever's doing it. We just decided to stay in gospel because it's where we believe we're called, and if God owns all the gold and silver and the cattle of a thousand hills, He can supply all our needs as we give our talents back to Him."
Though the last year has been full of what CeCe calls "a lot of pleasant surprises," the acceptance of their music is something they seem to understand. As CeCe puts it, "I think the world is ready for something new. Since there is so much negativity in the world, they really grab unto a positive message. We don't give the mainstream audience enough credit for openness, we think we have to change the lyrics or whatever, but that's not necessary." BeBe adds, "I think gospel music is finally starting to get the break we've waited to see for years, but I think what has held it up is a lack of quality, not only in production but in the songs themselves."
There's something else one observes watching BeBe and CeCe perform. For lack of a better term, we'll call it a sense of freedom. You can see it in the way they dress and move on stage, you can hear it in the way they play with the melody line of a song, making it different and fresh every time they sing it. And you can feel it in the audience, where it isn't an uncommon thing to hear a scream or two from a young fan when BeBe lets out one of his more sinewy growls. Is there something going on here we should know about? Says CeCe, "The black church has been known through the years for 'talking back,' whether that's testifying or yellin' 'Go on!' in a service or screamin' at a concert. If you can scream and be involved at a football game, how much more should you at a gospel concert. It should be exciting, if for no other reason than the God we celebrate."
"A lot of young people don't listen to gospel music or go out and but it because they don't feel it relates to them, and don't feel the freedom to be young and express themselves. We like to have fun in our performances, and get the point across that living for Jesus, living a clean life doesn't mean living a boring life." BeBe adds, "We condemn each other for telling everything under the sun in the church, we tell each other we sound too 'secular,' whatever that is. We believe all music comes from God, and that liberates us to express ourselves in a wider range of artistic expression than some others."
Is that what's missing from so much of contemporary Christian music, the line that could help connect us to the ears of the mainstream music world? BeBe responds emphatically, "What's missing in so much of Christian music is love. If God is love, then it covers every area of life, including sexual love, which God created. There's nothing wrong with it. What happened was the world corrupted it, and because it has been corrupted for a long time, the church is scared to approach it and sing about it. This is just one aspect of what my sister and I feel called to do, to take back or redeem the music back to Him."
"Real love is not expressed in today's music. And the Christians haven't done much better. We've been beating people up with our lyrics, condemning the worldly harshly. You don't have to tell someone they're locked up in prison—they already know that. They want to know how to get out, where the key is, and that key is God's love, which is more powerful than hatred, This is a pleasant and warm message to the world, one they need and want to hear."
One of the most surprising by-products of all this has been their new found friends in the mainstream R&B world, including Anita Baker, Stephanie Mills, Freddie Jackson, Natalie Cole and the aforementioned Whitney Houston. BeBe is astounded at the response from their peers. "A lot of these people have come from gospel backgrounds, and seem to appreciate the fact that we've stayed with it. At the lease they are encouraging us to keep going and some of them even seem to wish they were doing it!" BeBe reminds us again, "One of the reasons I've become friends with these people is because I've loved them right where they are. Even if some of them don't stand for right or haven't given any positive values back to the community, I've chosen to love them, and in return, they trust me and consider me a friend."
Clearly, BeBe and CeCe Winans are onto something. Hopefully, it's only a matter of time before others catch on. Finally, BeBe offered some advice to young singers and musicians wishing to pursue a career in music. "First be faithful. Sing in your church choir or at school or wherever as if you were singing in Carnegie Hall. The Bible says if you're faithful over a few things. He'll make you the ruler over many. Next have patience. Even when you feel that the world doesn't know what it's missing because you can't get a contract, be patient and trusting enough to know that when it's time, it'll happen."
"Fact is, you don't want it to happen before it's supposed to. There are a lot of things involved with this business that you can't explain to people—a lot of pain and longsuffering that, if you'd have told me about years ago, I might not have wanted to keep going. But God knows, and His time of preparation is for a purpose. Being in church and listening to the preacher laid the foundation. The winds blow real frequently now, but because of my upbringing I'm here today and doing well. Wait on God, 'cause when He opens a door, ain't no man gonna close it. Dream big, but be faithful, and God will do the rest."