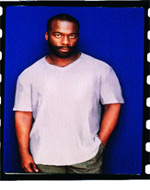 Free to BeBe
Wednesday, March 07, 2001
In this country, a mention on "Oprah"—one of daytime TV's biggest draws—goes a long, long way. Your book becomes a bestseller. Your charitable organization gets a huge influx of cash. And, if nothing else, everyone will know your name. After all, Oprah is one of Time magazine's "100 Most Influential People of the 20th Century." Not of the year, not of the decade. Of the century.
When BeBe Winans pitched his dear friend Oprah an idea for a show about friendship, it made a lot of sense to them both. They had been friends for years, long before she became the powerhouse media mogul she is today. The show, which aired Sept. 1 (three days after his new solo album Love and Freedom released), featured BeBe and his friends Stevie Wonder and Brian McKnight, two of several high profile musicians who contributed to Winans' CD.
BeBe knew it was a smart move, professionally speaking, but he was more enamored with the subject matter than with the potential outcome. "I knew the Oprah piece would be wonderful, beyond sales," he says excitedly, "but what that show has done has surpassed my expectations. It has opened doors I've never known before, to other audiences, to people who've never heard of me before, to other agencies that only represent people like Barbra Streisand who are calling me for meetings—people who a year ago didn't have the time of day for me."
Even before the Oprah hoopla, it had been a banner couple of years for Winans. While traveling with musical theater production The Civil War, BeBe was on the cusp of signing a distribution deal for an independent album he'd recorded when Kedar Massenburg, CEO and president of the legendary Motown label, came calling.
"I can't explain it, really," BeBe says of how the deal came down. "It just felt right. And at the same time, being a part of such a legacy is surreal. [My decision] had nothing to do with Motown's legacy. It had everything to do with Motown's future. Kedar Massenburg had such a vigor and a vision for the future... And it's great to be connected with people like those at Motown who are not scared to reach for the stars."
Motown wanted a new album from Winans, but most importantly they were offering something he'd never had: the opportunity to bridge the gap between gospel and R&B music without yielding to the expectations or limitations of either genre.
"My living under the umbrella of others' expectations has all but disappeared. I can make the kind of music I feel is right for me. That's a great feeling. Of course I want my music to touch people, so I'm not going to do anything crazy. People are my ministry. They are why I do this. But I have a freedom to sing and to say and to show who I am and what is important to me."
Even though his music career spans over 13 years, Winans says that kind of freedom was uncommon in Christian and gospel music. When he and sister CeCe decided to part professional ways back in 1995, business associates and fans alike were anything but encouraging. "It was like we couldn't possibly have a professional life apart from each other," he says. Those were difficult decisions to make, but he says the financial considerations were even more disheartening.
"When [record labels] are making $500 and you're getting only $2, something is wrong... That's one of the reasons, year after year, we see younger and younger artists signed because [industry executives] want people who don't know anything. That's not just in the Christian music business. That's the case everywhere."
But, Winans says, that way of doing business is one of the major reasons he's spent the last three years doing his own thing, apart from any music establishment. Though he admits the contract agreements he finds so disturbing are common practice everywhere in the music business, Winans says, "It's more difficult to be raped—and I know that's a very strong word—by people who are supposed to be kindred spirits than it is to be taken advantage of financially by people who don't know who Jesus is. That's when it hurts the most. I mean, I will love Jesus before anything. He's who I base my whole being on, my talents and everything, so it is a difficult thing, especially when you're young.
"At this point in my life, though, I understand that people are people, no matter where they work, and so I can be a part of the [Christian music] family and not carry bitterness. There's no bitterness here. I'm over that. And my presence is needed to bring about healing and a change."
While filled with professional challenges and opportunities, the past few years have found BeBe in need of his own healing and change. It's no secret, he says, that he and his wife of 15 years, Debra, have been charting a course through troubled waters. Without going into details, he speaks of their relationship as having been "unbalanced," of "walls being built up" and of emotional needs not being met. And as his new album bears out lyrically, he admits that a lot of work is yet to be done.
"My relationship with my wife means the world to me, and as much as my relationship needs a lot of work, right now I'm trying to work on myself, so that I'll be the person my wife deserves. There was a time when I was afraid to face that. I'm not afraid to face that anymore."
As the year 2000 comes to a close, BeBe Winans is focusing on his growth, both relationally and artistically. When asked if he's concerned with being accepted as an open and vocal Christian artist in the R&B world, he responds, "You can't wait on people to be big enough to accept you as you are. You'll be waiting 'til Jesus comes. But I'm at a place now where it's OK. I'm finally ready to take the liberty we've been given that for years we never acted on because we were afraid of what people would say."
With a little help from his friends and a big push from Motown, BeBe's new solo effort is gathering the momentum he's always hoped for, both as a professional musician seeking an enthusiastic audience and as a man of faith who wants to share what he's learned. "This album takes me even further than where I've been before in order to be a witness. And I'm throwing everything I've got into it.
"Love," he continues, "is stronger than hate, stronger than misunderstanding, stronger than anything that keeps us apart... It's so important, especially in these days when we all have a whole lot of baggage. If we can't meet people with compassion in our hearts, then we miss the whole point of who Jesus is. And I don't want to miss it."