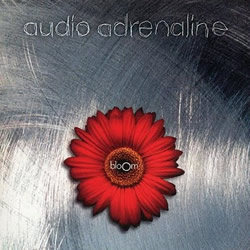 Bloom
The secret is out.
From the driving, opening strains of "Secret," the first cut off Bloom, it's quickly apparent that this still relatively young band has, in fact, blossomed into something pretty special.
Though this band's last studio project, Don't Censor Me, contained more than a few hit radio songs, it just seemed to be directly lyrically at a post-pubescent scene that reflected little of what was on the minds and in the hearts of AA's 20-plus-year-old members. Bloom, however, maintains the radio accessibility without catering to a one-dimensional crowd.
This, the third Audio Adrenaline project (fourth if you want to count last year's Live Bootleg, though "bootleg" still seems strange considering ForeFront distributed it), unites the four-member band with Gin Blossoms" producer John Hampton on nine of the 12 cuts, and the match seems well worth the expense.
Mark Stuart's distinctive vocals have never had more of an edge—it's as if his voice has been defined on this record and he sounds more at home than ever on these guitar-laden, blues-influenced, attitude-driven tunes (check out the hooky bridge on "Memoirs'). And did I mention guitar-laden? More than ever, Barry Blair gives the Audio Adrenaline sound its soul, from the quiet melody of "I Hear Jesus Calling" to the manic rhythms of "Secret" and "Memoir." Will McGinniss adds a solid, and at times stabilizing, bass line to the madness, giving AA some sonically thigh muscles to flex when combined with drums and percussion (compliments of Greg Herrington, Todd Collins, Hampton, and Ben Cissell). And Bob Herdman shows how his keyboard talents have almost literally bloomed before our eyes as he turns in a strong performance with a little keyboard arrangement help given by Executive Producer Eddie DeGarmo.
Throughout, echoes of the aforementioned Gin Blossoms, a bit of Blues Traveller and perhaps even a touch of the mature alternative edge seen on dc Talk's latest can be heard, but all remain mere influences. Musically, the members of Audio Adrenaline have written a terrific screenplay and cast themselves in the lead role.
Moreover, Bloom digs at the roots of what makes these guys tick, their faith. Opener "Secret" sets the tone loud and clear: "I once was lost in a foaming, roaming rabid sea/Then blooms blossomed, changed my outlook/Now I've been set free … I've got a secret/And I cannot keep it." Letting the bass kick off "Never Gonna Be As Big as Jesus" keeps the vibe going over Stuart's reflection (re: John Lennon) that "I could climb the corporate ladder/Buy, sell and liquidate/Maybe be just like the Beatles/Melodic rocking heavyweights… But one thing's true/Never gonna be as big as Jesus;" and the rockin' cover of Edgar Winter's "Free Ride" works amazingly well in this context.
But the most insightful lyrics come in the honest outpourings of "See Through" and the closest thing to a ballad on the album, "Man of God'—'Sometimes I'm a liar/Sometimes I'm a fake/Sometimes I'm a hypocrite that everybody hates… but I've never been left alone/In any problem that I've known/Even though I'm to blame.'
'Good People" pays tribute to the many fans who make the guys at home on the road; Simon Peter's miraculous adventure at sea serves to invite listeners to "Walk on Water'; and "Bag Lady" gives Bloom another unique twist as this all-male band offers up a prayer for troubled women young and old.
Planted in the fertile soil of two strong prior efforts and nurtured through heavy touring, this band's laid all the ground work to make Bloom a secret everyone wants to know. Copyright © 1997 CCM Communications. CCM is a registered trademark of CCM Communications.
Song Title
Length
Play
Price
Buy MP3
&nbsp

Secret




Album: Bloom

3:42
$1.29
Buy Song
&nbsp

Never Gonna Be As Big As Jesus




Album: Bloom

4:26
$1.29
Buy Song
&nbsp

Good People




Album: Bloom

3:26
$1.29
Buy Song
&nbsp

I'm Not The King




Album: Bloom

3:51
$1.29
Buy Song
&nbsp

Walk On Water (Bloom Album Version)




Album: Bloom

3:51
$1.29
Buy Song
&nbsp

See Through




Album: Bloom

4:58
$1.29
Buy Song
&nbsp

Free Ride (Bloom Album Version)




Album: Bloom

3:22
$1.29
Buy Song
&nbsp

Man Of God (Bloom Album Version)




Album: Bloom

4:17
$1.29
Buy Song
&nbsp

Gloryland




Album: Bloom

4:24
$1.29
Buy Song
&nbsp

Jazz Odyssey




Album: Bloom

1:21
$1.29
Buy Song
&nbsp

Bag Lady




Album: Bloom

4:09
$1.29
Buy Song
&nbsp

I Hear Jesus Calling




Album: Bloom

3:22
$1.29
Buy Song
&nbsp

Memoir




Album: Bloom

4:06
$1.29
Buy Song