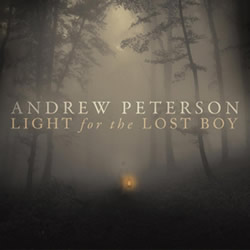 Light For The Lost Boy
ANDREW PETERSON • Light For The Lost Boy (Centricity Music)
Rating: 4 Stars

"As one of the most treasured faith-based troubadours of this generation, Andrew Peterson needs no introduction, though Light For the Lost Boy is sure to throw long-time fans for an artistic loop. The progressive project is perhaps his most instrumentally fleshed out and rhythmically varied to date, though much like his muse Paul Simon, Peterson's storytelling never gets lost in the shuffle. If anything, it gives him a more urgent framework to convey a slew of emotive expressions chronicling everything from innocence lost to a faith refreshed." — Andy Argyrakis

Check out audio clips of songs on Light For The Lost Boy below. . .
Song Title
Length
Play
Price
Buy MP3
&nbsp

Come Back Soon




Album: Light For The Lost Boy

5:36
Buy Song
&nbsp

The Cornerstone




Album: Light For The Lost Boy

4:44
Buy Song
&nbsp

Rest Easy




Album: Light For The Lost Boy

3:27
Buy Song
&nbsp

The Voice Of Jesus




Album: Light For The Lost Boy

3:26
Buy Song
&nbsp

The Ballad Of Jody Baxter




Album: Light For The Lost Boy

4:01
Buy Song
&nbsp

Day By Day




Album: Light For The Lost Boy

4:00
Buy Song
&nbsp

Shine Your Light On Me




Album: Light For The Lost Boy

4:46
Buy Song
&nbsp

Carry The Fire




Album: Light For The Lost Boy

4:26
Buy Song
&nbsp

You'll Find Your Way




Album: Light For The Lost Boy

4:30
Buy Song
&nbsp

Don't You Want To Thank Someone




Album: Light For The Lost Boy

9:56
Buy Song