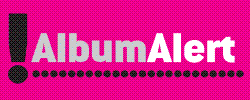 ! Album Alert: Tuesday, April 14, 2009
Tuesday, April 14, 2009
By Andy Argyrakis
ASU IMPORT
All Star United
figurehead
Ian Eskelin
may be most active as a songwriter and producer these days, but that doesn't mean he's given up on the group by any means. In fact, the switch hitter returns to the studio with an ASU cap on to release
The Good Album
(Furious?), which will thus far only be available as a United Kingdom import. Details have been scarce thus far, but a press release indicates the band's high octane approach to music making and wry sense of songwriting will continue. "From the hypnotic anthemic ridiculousness of live show stomper 'Dude. . .That's Freaking Awesome' to the heartfelt soon-to-be-radio-smash 'The Blame,' the boys are back to make you laugh out loud and ponder your existence as only they can do."
THE SPANISH SIDE OF A WORSHIP LEADER
Considering
Freddy Rodriguez
's spring release,
Light In the Darkness
, was such a success across all culture lines, the worship leader is also giving his Spanish speaking audience the chance to experience his unique style.
Luz En Las Tinieblas
(Integrity Latin) combines his vertical approach to songwriting, wrapped around a soulful pop vocal dynamic.
SOUTHERN GOSPEL STANDOUTS
Out of all the southern gospel duos,
Howard & Vestal Goodman
are undoubtedly one of the most revered of all time. It's no wonder that New Haven Records (under the Provident umbrella) has packaged the pair's timeless tracks on
Songs From the Journey
, which features their sweet southern stylings across themes of peace and praise.
For a complete list of new and upcoming albums, check out our new releases page.