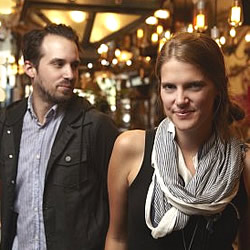 Pouring Out: All Sons & Daughters Lives and Loves in the In-between
Monday, April 01, 2013
Heartache. In the reality of the Christian walk we are not constantly on the "mountain top." In fact, the valley is where we find ourselves leaning into and longing for our Heavenly Father. And as His sons and daughters, sometimes all our spirit can do is worship, letting the music express the cries of our heart. Meet a pair of worship leaders who embrace their personal community as not only their inspiration, but a life-giving source and the voice of All Sons & Daughters.
CCM: Emphasis on being organically raw in both your instrumentation as well as your vocal harmonies is enough to send spiritual "chills" up one's spine. How would you describe your sound and how do you feel it reflects your spiritual journey, especially in becoming All Sons & Daughters?
David Leonard:
Our sound is a byproduct of our environment. It reflects our spiritual journey in that it is directly connected to our church and the process we walk through daily with our people.
We are a part of a very musical culture and we both have a deep appreciation for good music. It was and is our desire to create music for our church that we would want to sing and that we would want to listen to, including melodies and instrumentation along with content.
CCM: Most worship music focuses on the praise and celebration of Christ's victory or the hope we have in Him, yet you highlight worshipping in the toughest moments of our walk—the moments where confusion and pain dominate our existence. What led you to intimately finding God in the moments where the last thing we desire to do is worship? How has the creation of your worship music impacted you in this regard?
Leslie Jordan:
Our church attracts a lot of hurt and/or broken people and not all of them are Christians. So it didn't really make sense to us to only write about the bright and happy times as believers when we have people suffering through loss, depression, addiction and doubts. We take a lot of our examples from scripture. David was a psalmist who understood the difference between lament and praise and he did a great job of balancing the two, sometimes in the very same Psalm. In some way, that is what we try to do when we take on the heavier approach to worship music.
CCM: Now with multiple EPs and several albums released, what dreams do you envision for AS&D in 2013?
Leslie:
Without question, we desire to continue being present at our church. God is up to some really great things this season and we are looking forward to how they unfold. Also, we have a desire to be more intentional with our time on the road. Our church has a very free-flowing time of worship where people move about and take communion, pray, give offerings/ tithes, draw, journal, etc. We desire to take these concepts with us on the road when we go visit other churches and colleges. It has been such a source of freedom for our people to worship in ways other than music. We are hoping to begin these more intentional nights of worship this fall!

CCM: As worship leaders at your community church in Franklin, TN, how do you feel being a member of such an intentional environment has influenced your songwriting and grown you as worship leaders?
Leslie:
We have such a sweet community of people who allowed us the freedom to grow as worship leaders and songwriters. They have been on this journey with us. It has been greatly influential in how we write and prepare and worship. From being on staff, to being a worship leader, to being a member of the congregation, there is so much freedom in our church, [moreover], freedom to fail, which is almost unheard of working on a church staff.
As a part of the church, we are encouraged to live in the tension of life because we believe that is when it is most crucial to dig into the Lord and what He offers. It is a beautiful place of learning, stories, redemption and honesty.
To read this article in digital CCM Magazine, click HERE