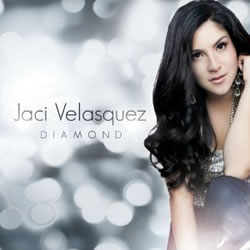 Jaci Velasquez — "Diamond"
With over 4 million albums sold, 16 #1 radio hits and seven Dove Awards to her credit Jaci Velasquez is back with her first major release since her marriage to fellow musician Nic Gonzales (Salvador) and the birth of their two children, Zealand and Soren. Featuring the hit song, "Give Them Jesus",
Diamond
reflects the depth and maturity of a woman, who like so many of her listeners, is trying to find balance in the midst of the pressures of everyday life while holding onto her dream of being an artist, author, actress and radio host.
Listen to clips here...
Visit Jaci Online at:
http://www.facebook.com/jacivelasquez
http://jacivelasquez.com/
Purchase Jaci's Diamond album at:
ChristianBook.com
itunes
LifeWay