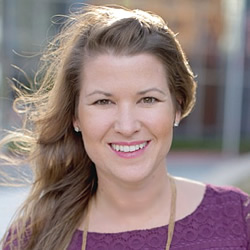 Family Friendly Morning Show - Sami Cone
DougandJaci.com home page
Saving Money with Sami Cone
With a passion for teaching and mentoring others as her inspiration, Sami Cone began blogging in 2009 to encourage others to live their dream life and pursue their passions. A published author and seminar speaker, she draws on her experiences as a writer, editor, university professor, performer, professional athlete, and pageant winner to help women realize their full potential in life. Sami and her husband of seven years, Rick, thrive in Nashville with their two children.
Visit Sami's website:
www.SamiCone.com
Catch up with previous great savings tips from Sami here . . .
(It might take a minute for all the audio to load. Thanks for your patience.)
Check Your Receipts
Hire Youth for Summer
Cheap Summer Movies
Father's Day Dine Out Savings
Travel Tip: Skip the Upgrade
Grocery Shop After Breakfast
Barter to Save
Spring Break Travel Tip
Note Start Dates on Products
Reverse Budgeting
Compassion Money / Sami's Book, Raising Uncommon Kids, Give-Away
Winter Morning Workout to Savings
Adults Should Shop the Kids' Aisle
Maximize Your Memberships
Coupon Month - Buy Small to Save
Coupon Month - How to Stack
Online Search - The Top Result Might Not Be Best
Always Coupon Search
Buy More But Share
What to Buy in August
Mid Year Financial Check
Research Prices Online
Father's Day Savings
Hotel Homework
Summer Savings on Entertainment
Bring Your Own Cup
Track the Start Dates
Wedding Savings
Create Your Own Frozen Dinners
Hair Treatments on the Cheap
Teach Your Kids about Money with a Checkbook
Saving Through the Sickness
Clear the Clutter for a New Year
Savings Tips for the New Year
Shop and Eat
Shop and Give
Find A Hotel with Freebies
Keep Your Change
Pets and Kids
When NOT To Get Gas
Coupons on Small Items
August is National Picnic Month
School Savings — Warehouse Stores
Savings for Teachers & Homeschool Parents
Back to School Savings
Eating Out on the Cheap
If the Kids Want it, Then They Pay For It
Helping Others with Food to Save Money
Summer Fresh Fruit Freeze
Summer Movie Savings
Summer Kids Activity: Scrapbook
Savings Through Cash Back Websites
Develop the Habit Before the Purchase
Saving Through Floor Model Purchases
Saving Through Do-It-Yourself Repairs and Fixes
Fly For Free
Tax Day Freebies
Tax Tips
Know Your Money Personality
30 Meals for 30 Dollars
Babysitter Swap
Keep the Change
Save Utility Bills
Shop Now for Next Year
Last Minute Entertaining
Give Back at Christmas
How to Haggle
Outlet Malls
Combine Business and Family Travel
Rethink Gift Giving
Consider the Total Cost
Change Times You Eat Out To Save
Coupon Stacking and Apps
Coupons on Smaller Sizes
Maximize Your Memberships
Teach Your Kids About Money
National Coupon Month: Beyond the Coupon - Setting Goals
National Coupon Month: Overview
Working to Save
Birthdays on the Cheap
Back to School Shopping
SCORE Method E - Execute
SCORE Method R - Review & Plan
SCORE Method O - Organize
SCORE Method C - Collect Coupons
SCORE Method S - Start somewhere
Camping on a Budget
Summer Beauty on a Budget
Freeze Summer Food for Year 'Round Use
New Uses for Old Things / Summer Savings with Kids
Memory Keeping / Pics and Papers
Summer Grill Tips / Online Give-Away
Gardening to Save
Love on Mom without Breaking the Bank
What is good to buy in May?
Consignment Store Tips
Yard Sale / Garage Sale Tips
Tax Day - April 15 Freebies
Do It Yourself Spring Cleaning
Family Travel on the Cheap
Soup Swap - Cook Once, Eat Twice
Spa Treatments at Home
Healthy Indulgences
Eat Healthy - Spend Less - Maximize Your Food
Top Tips for Controlling Spending
Saving Tips for the New Year
Charity - Giving Back
Experience Based Gifts
Christmas Party for Less
Teacher Gifts at Christmas
Savings on Heating
Fall Savings
Thanksgiving Meal Savings
No Spend November
Holiday Travel Tips
Fall Fashion For Less
Fall make-up
Tailgating
Don't Miss Expiration Dates on Coupons and Gift Cards
Avoid Temptation — Take the Month Off
Back to School — Splurge vs. Save
Squeezing the Last Bit of Fun out of Summer Cheaply
Saving on Outfits
Frugal Moving Tips
Hiring a Pro Can Save You Money
Teaching Your Kids the Value of a Dollar
Lunch Time Savings and Eating Out
Is Generic Brand Still the Best Buy
Best Day to Grocery Shop
Stay Healthy & Save in the Grocery Store
Slow Cookers
Eating Healthy
Value vs. Cheap
Savings Accountability
Subtraction Before Addition
Savings - Winter into Spring and Summer
Have Someone Do Your Taxes
Coupon Value Up but Savings Down at Some Stores
Is Getting a Store Credit Card to Save a Good Idea?
Is "Buy One, Get One Free" Really a Deal?
Buy It Before You Need It
Find Promo Codes Before You Buy
Online Shopping - Watch It on the Shipping
Deal of the Day Sites
Saving Through Portion Control
Christmas for Yourself
Work Where You Spend
Free Personal Care - Dentist, Hair, Massage
Gift of Time - Thanksgiving Season
Gifts Through Subscriptions
After October 31st Savings …
Clothes Savings – the Layered Look for Fall
Tips on Make-up Savings
Learning an Important Term to Help You Save – "Base Price".
The Other Side of Last Week's Report – Big Box Stores ARE Sometimes the Best Deal

Men and Women See Savings Differently – Is the Best Deal ALWAYS at a 'Big Box' Store?

Be Organized - Create a Separate Email Just for Coupons and Saving Offers

Find Savings for the Whole Family in the Kids Aisle

Saving on Everyday Expenses

How to Save on Your Grocery Bill

Back to School Shopping Deals

Family Fun on a Small Budget