Doug & Jaci talk to the Mother of Justin Beiber - Pattie Mallette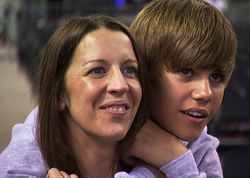 Doug & Jaci catch up with Pattie Mallette, mother to one of the biggest pop stars on the planet – Justin Bieber.
Hear about how Pattie keeps Justin spiritually grounded – What words of encouragement she has for us and how we can best pray for Justin.
Before you listen to our interview – check out Pattie's incredible story of how she came to know Christ. From going down all the wrong road and even trying to kill herself – to finding Christ in a hospital room thanks to a man of God who never gave up on her.
Follow THIS LINK to the 1st of 4 videos that tell her story.




• Pattie shares how she keeps Justin safe and accountable
• Pattie talks about one of her favorite songs – Pray
• Encouragement for those wanting to get into the music business, and
the bible study tied to her son's film "Never Say Never"



(if the Never Say Never Discussion Guide link doesn't work, try it in another browser - thanks)

• After Pattie got saved, she got pregnant out of wedlock – how can we be less judgmental of people when they fall
• Pattie's encouragement for the kids, the message of the movie and how we can pray for Justin