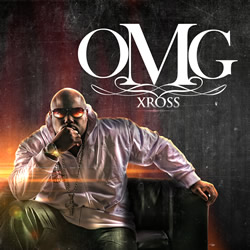 OMG
XROSS
OMG
album is one of the top Christian Hip Hop albums to be released in 2013. The album features some of the midwest most prolific gospel soul singers such as Jamecia Benett, Billy Steeleand rap feature from K-Jay, Righteous Jonez, Troy Hudson & Trigga. XROSS arguably has 17 hits songs on this double CD set!
Enjoy this free download from XROSS!

Right-Click
HERE
to download "We Bout It (ft. Righteous Jonez & K-Jay)" from XROSS' album
OMG
.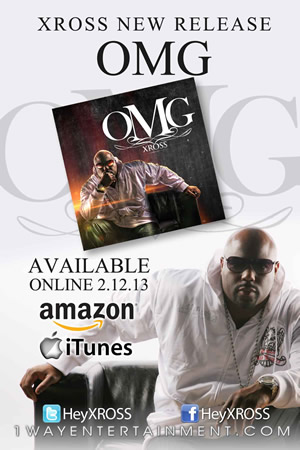 For more info:
Official XROSS website
Pre-order OMG on iTunes
Check out sample clips of the songs from
OMG
below. . .
Song Title
Length
Play
Price
Buy MP3
&nbsp

OMG




Album: OMG

6:19
&nbsp

We Bout It (ft. Righteous Jonez & K-Jay)




Album: OMG

5:19
&nbsp

Monster (Dedicated to Trevon Martin, Auroa & Newtown, CT)




Album: OMG

6:12
&nbsp

I'm Winning (ft.KG & T-Hud)




Album: OMG

6:03
&nbsp

Sin City (ft. Trigga, K-Jay & David Hurst)




Album: OMG

6:23
&nbsp

We Crazy (ft. David Hurst)




Album: OMG

3:32
&nbsp

Out of Time




Album: OMG

4:39
&nbsp

Red Lights




Album: OMG

4:29
&nbsp

Breath N My Body (ft. Jonvonta Patton)




Album: OMG

4:46
&nbsp

Paradise (ft. Jamecia Bennett)




Album: OMG

5:15
&nbsp

Days Go By




Album: OMG

4:49
&nbsp

Fly'n High (Dedicated to Michael Dean)




Album: OMG

4:59
&nbsp

Poppin' Out tha Blessin' (ft. Timotha Lanae)




Album: OMG

4:28
&nbsp

You saved?




Album: OMG

4:29
&nbsp

Man Up (ft. Billye Steel)




Album: OMG

4:46
&nbsp

So Much More (ft. J Isaac)




Album: OMG

4:41
&nbsp

Pray On (ft. K-Jay & Tytist Dean)




Album: OMG

6:12