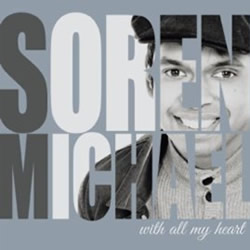 With All My Heart [EP]
WITH ALL MY HEART by Soren Michael
Soren Michael is a new artist who has been through much in his young life. He was born with cerebral palsy and later developed epilepsy and other medical conditions. Nevertheless, he continues to sing praises to the Lord with unwavering faith, which has helped him to face life's many challenges.
Soren's dream is to spread God's Word through his music. His contemporary Christian music album
With All My Heart
is beautiful – it gives inspiration, hope and joy. The words and melodies of the songs are by Soren. He has been supported in his musical journey by his outstanding vocal coach Kirsty-Anne Roberts and brilliant music producer Alexander James Stock, Troubador Records, Houston, TX, USA.
Right-Click HERE to download for free Soren's song, "You Are Our God"!
If you wish to encourage Soren Michael – you may buy his music through TCM, iTunes, Amazon, CD Baby. Please write a comment if you can on one of these sites – he would love to know what you think.
It is a well produced album. Enjoy listening!
Find out more at:
www.sorenmusic.com.au
Purchase With All My Heart online at:
iTunes
Amazon
CD Baby
Check out sample clips from the album below...

Song Title
Length
Play
Price
Buy MP3
&nbsp

Pour Out Your Heart




Album: With All My Heart [EP]

3:12
&nbsp

Rock And Fortress




Album: With All My Heart [EP]

3:44
&nbsp

With All My Heart




Album: With All My Heart [EP]

3:33
&nbsp

You Are Our God




Album: With All My Heart [EP]

3:08
&nbsp

Have No Fear




Album: With All My Heart [EP]

3:06
&nbsp

Joyful Shout Of Praise




Album: With All My Heart [EP]

2:55