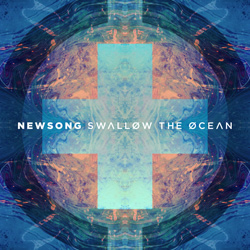 Swallow The Ocean (Deluxe Edition)
With the release of their 18th recording, Swallow the Ocean, NewSong continues their legacy with a collection of songs that reflects the influence of fellow Winter Jam headliners, the organizations NewSong partners with to help those in need, and the core principles of evangelism that continue to be the cornerstone of their ministry.
"We have spent our whole lives trying to be artists and musicians who describe God's love," says Matt Butler (lead vocals, keys, cello, songwriting). "So the impetus behind the record is to use music for that purpose — to introduce God to people who don't know Him." The initial idea for the album's title cut stems from the 100-year-old hymn, "The Love of God." The original songwriter was wrestling with a bout of writer's block when he was reminded of a story about a man in an insane asylum. When the old man passed away, a powerful, poetic inscription about the infinite love of God was found carved on the wall of his cell. The beautiful words of his poem and the resulting hymn were the inspiration for "Swallow the Ocean."
"If we were to fill the entire ocean with ink, and if we were to take pens and try to write the love of God across the sky, we would drain the entire ocean dry and still not even come close to touching the surface of God's greatness and the bigness of His love; that has become the heartbeat of this album," Butler shares.
For many of the songs on Swallow the Ocean, NewSong recorded the album together in one room, a rarity in today's digital age. The result was a more cohesive sound and the most artistic offering of the band's career. "This album has more of a feeling of oneness for us as a band. We really feel like it came together," says Butler.
"God's given us songs to write and also sent some great songs our way through friends of ours, and so I pray that it'll be a project that will encourage the Body," continues founding member Eddie Carswell (vocals, songwriting). Swallow the Ocean also marks the first time the band worked with producer Seth Mosley (Newsboys, Mark Schultz).

For more info:
facebook.com/newsongonline
twitter: @newsongonline
instagram: @newsong_online
www.newsongonline.com
Click here to buy Swallow the Earth on iTunes

Check out sample clips of the songs on Swallow the Ocean below. . .
Song Title
Length
Play
Price
Buy MP3
&nbsp

All We Need




Album: Swallow The Ocean (Deluxe Edition)

4:03
Buy Song
&nbsp

Choose To Love




Album: Swallow The Ocean (Deluxe Edition)

4:10
Buy Song
&nbsp

Swallow The Ocean (Coming Alive)




Album: Swallow The Ocean (Deluxe Edition)

3:45
Buy Song
&nbsp

Never Be Another




Album: Swallow The Ocean (Deluxe Edition)

3:31
Buy Song
&nbsp

In Jesus' Name




Album: Swallow The Ocean (Deluxe Edition)

3:31
Buy Song
&nbsp

Who Loved You First




Album: Swallow The Ocean (Deluxe Edition)

3:52
Buy Song
&nbsp

Every Victory




Album: Swallow The Ocean (Deluxe Edition)

4:17
Buy Song
&nbsp

Our Reward




Album: Swallow The Ocean (Deluxe Edition)

4:00
Buy Song
&nbsp

As It Is In Heaven




Album: Swallow The Ocean (Deluxe Edition)

3:21
Buy Song
&nbsp

Could It Be




Album: Swallow The Ocean (Deluxe Edition)

4:28
Buy Song
&nbsp

In Christ Alone




Album: Swallow The Ocean (Deluxe Edition)

4:55
Buy Song
&nbsp

Creator




Album: Swallow The Ocean (Deluxe Edition)

3:54
Buy Song
&nbsp

Only Children




Album: Swallow The Ocean (Deluxe Edition)

3:43
Buy Song
&nbsp

Furious




Album: Swallow The Ocean (Deluxe Edition)

3:57
Buy Song