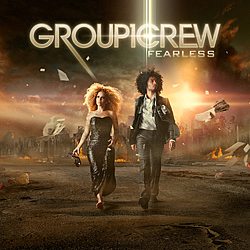 Fearless
Leading hip-hop sensation, Group 1 Crew, presents
Fearless
on Fervent Records. The duo, comprised of Blanca Callahan and Manwell Reyes, had a hand in writing or co-writing all of the 13 tracks on the album.
As noted by Blanca and Manwell, the title and theme of the record,
Fearless
, arose from a turbulent period for the group. While creating the album, they faced numerous challenges including evolving from a trio to a duo, the passing of Blanca s father and learning how to balance newlywed life with their spouses and a heavy touring schedule. Blanca and Manwell confronted these tests and have emerged stronger than ever before.
Fearless
takes fans on a lyrical journey through the truths that they faced over the past couple years. The title track, declares the message Group 1 Crew wants to convey on this album, "if You re with me, who can be against me? I have no reason to fear."
"This is music a Christian can play in front of their unchurched friends and we can be a bridge in the conversation," sums up Manwell before Blanca reveals the group's impact goals on believers. "Even in the face of craziness or the hurricane of emotions going on in your life, you need to always remain Fearless. When God's called you to something great, don't ever be afraid to step out in faith and don't ever give up."
For more info on Group 1 Crew and where to find Fearless, go to their site:
group1crew.com
Click
HERE
to read this month's CCM Magazine feature on Group 1 Crew.
Check out sample audio clips of their songs below. . .
Song Title
Length
Play
Price
Buy MP3
&nbsp

His Kind Of Love




Album: Fearless

3:27
$1.29
Buy Song
&nbsp

The Difference




Album: Fearless

3:48
$1.29
Buy Song
&nbsp

He Said (Feat. Chris August)




Album: Fearless

2:48
$1.29
Buy Song
&nbsp

Dangerous




Album: Fearless

3:45
$1.29
Buy Song
&nbsp

Goin Down




Album: Fearless

3:18
$1.29
Buy Song
&nbsp

Fearless




Album: Fearless

3:21
$1.29
Buy Song
&nbsp

Mr. & Mrs. (I Do This For You)




Album: Fearless

3:27
$1.29
Buy Song
&nbsp

Darkest Valley (Feat. Flame & Thomas Ware)




Album: Fearless

4:18
$1.29
Buy Song
&nbsp

Not The End Of Me




Album: Fearless

3:46
$1.29
Buy Song
&nbsp

Freq Dat




Album: Fearless

3:59
$1.29
Buy Song
&nbsp

Night Of My Life




Album: Fearless

3:48
$1.29
Buy Song
&nbsp

Steppin Out




Album: Fearless

3:53
$1.29
Buy Song
&nbsp

Forsaken




Album: Fearless

3:44
$1.29
Buy Song