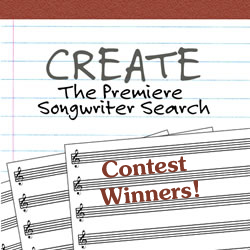 CREATE 2011: Winners
CCM magazine
and TodaysChristianMusic.com extend our congratulations to all the winners. We also would like to thank Provident Label Group, whose A&R Department, which works on behalf of Brandon Heath, Tenth Avenue North, Third Day and other popular artists, selected the winner and runner-ups. Thank you also to Provident recording artist Michael W. Smith for his involvement with this event.
The winners are:
GRAND PRIZE - Jason Dyba, "What the World Needs"
5 Runners-Up (in order):
Joe Romeo, "The Day of the LORD"
Erik Bledsoe, "He Is Greater"
Tommee Profitt, "You Make Me See"
Jason Dyba, "Revelation 5"
Jeremy Drinkwine, "Been There"
All other songs submitted for online posting, whether you submitted one song or 10 songs, can be heard
HERE
.
If you have other questions about the contest, please first consult the Official Contest Rules and Contest FAQ. If posting comments on our forum, please do ensure that they are indeed factual. There have been a few postings claiming certain things to be facts when they indeed are not. As such, libelous postings claiming falsehoods as facts will be removed. Thank you.

Song Title
Length
Play
Price
Buy MP3
&nbsp

'What The World Needs' by Jason Dyba




Album: CREATE 2011: Winners

3:56
&nbsp

'The Day of the LORD' by Joe Romeo




Album: CREATE 2011: Winners

3:25
&nbsp

'He Is Greater' by Erik Bledsoe




Album: CREATE 2011: Winners

4:16
&nbsp

'You Make Me See' by Tommee Profitt




Album: CREATE 2011: Winners

5:12
&nbsp

'Revelation 5' by Jason Dyba




Album: CREATE 2011: Winners

4:59
&nbsp

'Been There' by Jeremy Drinkwine




Album: CREATE 2011: Winners

5:50